Bittersweet comfort on a lovely, lonely road to an ancestral home
The road to Burgeo branches off the Trans-Canada Highway just south of Stephenville on Newfoundland's West Coast, tracing a serpentine course, meandering first east then south. It hugs the walls of an undulating emerald valley that it shares with Southwest Brook, a tributary that glitters in the morning sun, although blue-grey mountains to the east are swathed in rain-bruised clouds.
Its official name is Route 480, also called the Caribou Trail, but it's mostly just the road to Burgeo. There are no settlements on this 148-kilometre stretch, no gas station; just one town hunkered down at the end, like a long-line fisherman in a Nor-Easter.
Now the road sheers off from the brook, climbing higher, skirting the Long Range Mountains, past virgin pine forests into the lunar landscape of the Blue Hills of Coteau. Massive rock outcroppings are punctuated by sky-blue ponds; nothing for company but the grey ribbon of asphalt and a procession of hydro poles. A herd of caribou lives here—thus the nickname—but we don't see any. What we do see are a few errant camps, a gypsy encampment of RVs, two cars and one motorcycle.
The road to Burgeo is a lonely one.
Some say "Burgeo" is a corruption of the name that a Portuguese sailor who'd spent time in the Caribbean gave to the archipelago nearby. When he saw it in the mid-1500s, he named it "Virgio" after the Virgin Islands. ("Virgio" appears on Portuguese maps of the time.)
The community was accessible by water only until 1971, when a road that slashes the wilds of the island's southwestern region like an incision was built. Sandbanks Provincial Park has a congregation of beaches that would put any Caribbean island to shame, but for the coldness of its waters. The park and the surrounding islands have made the region a must-do for kayakers.
But our decision to travel the road to Burgeo is for no mere summer getaway.
One of the first settlers, arriving in the late 1700s, had the surname "Matthews." The name is scattered through Burgeo history like pepper on a feed of salt beef and cabbage.
There used to be a fish plant in Burgeo. A man named Matthews was the first manager. The elementary school was named after a Matthews, a former principal. There is a Matthews Road. The name is etched onto countless tombstones here.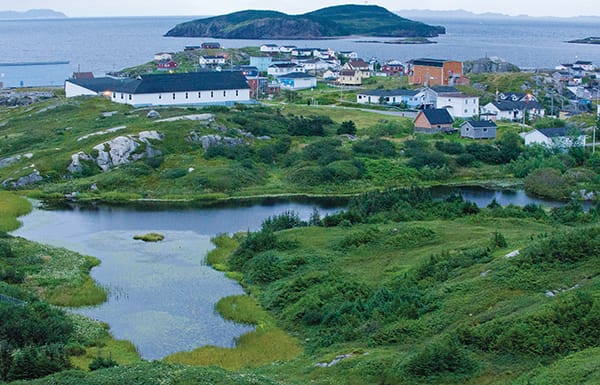 My wife, Sharon, sits beside me as I drive the rental car over the bridge to the village proper, where yellow and red and turquoise-painted homes cling to the rocks like barnacles. When we got married, Sharon hyphenated her last name, mostly because her family name, Matthews, would die with her father had she not done so.
The sun is shining when we pull into Burgeo. Almost immediately, to my delight, we turn onto Matthews Road. I'm suddenly assailed by a vivid recollection of a conversation I'd had last January with Sharon's father, Albert.
Like so many from Newfoundland, Bert left young—departing for the shipyards in Halifax at 16.
"Most beautiful beach in the world," he'd declared a couple of days after New Year's. "Screw the Caribbean." He'd gotten a faraway look in his eyes. "Out to the Big Barasway—my son, you never saw such fish. One time out in a dory—shadow passed under me. Whale bigger than a boat."
Now, six months later, Sharon and I pull up to an old clapboard house, perched in front of a gargantuan slab of granite. "That's where Dad was born," says Sharon.
By January, Burgeo was Bert's sole topic of conversation. I had encouraged his remembering. It made him smile.
He didn't have much to smile about anymore. His health was declining. His wife, Lucy—Sharon's mother—had died in December.
"I'm sorry," Sharon says, turning away to look out the car window. I touch her hand.
I vividly recalled Bert's sudden enthusiasm during one of those conversations. "This summer," he'd said. "My treat. We'll all go… don't even think about the money."
I'd nodded agreeably; I began to make tentative plans.
Bert passed away in April.
We stop at the Matthews homestead. A lady comes out and I tell her that Sharon's father was born there. I point at the green street sign with Sharon's family name on it. The lady tells us about herself: she looks after a grandchild part-time; her husband works the boats out west.
We drive past a white clapboard building. It used to be a general store. Sharon's Uncle Al ran it for 50 years. We pull into a driveway fronting a house with a fire-engine red deck, a pot of geraniums trembling in the onshore winds.
A matronly woman rushes toward Sharon and heartily embraces her. A stocky man with hair as silver as Sharon's father's follows the woman.
"You're here," she says, excited. And she launches into gossip before we reach the kitchen.
This is Mary. She's married to Bud, Sharon's cousin. I know his brother Lorne—he moved upalong in one of the Newfoundland diasporas. They look almost exactly alike.
Lorne, however, has the gift of the gab. Bud, it turns out, is quintessential Outport. Not a word said that doesn't need saying. But he opens up during our visit. He tells me that Uncle Bert once got him drunk as a skunk on home brew. He takes me to his office and shows me highlights from the family album.
Sharon and Mary reminisce throughout lunch featuring Mary's homemade bread and gooseberry preserve, and the requisite pot of tea laced with Carnation Evaporated Milk.
Because we've got a good weather window, we drive to Sandbanks Provincial Park. We climb a trail rising over dunes bedecked with undulating sea grass, and then see the first beach.
Brown sugar sand, sky-blue waters, easily half a kilometre long. There are four people on it. It's so beautiful it could make a fisherman cry.
A chain of islands rises up from the sea, more humps than a caravan of camels. We stroll along Cow Hill Trail and stop to graze on wild raspberries. We stare west, scanning a coastal plain, the opening to Big Barasway. Seventy or 80 years ago, Sharon's grandfather had a pig farm out here.
We drive back into town, past Short Reach, venue of one blemish on Burgeo's history. Back in the 60s a whale was stranded here. A few callow individuals shot it. Farley Mowat, a resident at the time, recorded the incident in A Whale for the Killing. He left soon after the book's publication.
We stroll to the harbour. Long-line fishing boats groan at their lines on the concrete wharf. One man, leather-faced, repairs his nets. A collection of pots waits for lobster season on a rock-strewn hill.
We stop at Burgeo Centennial Museum. They should call it the Matthews Memorial.
A painting of Sharon's Uncle Aubrey, former school principal, decorates one wall, pictures of the old house hang from another. There's a huge model of the schooner Beatrice Beck along with a collection of carved dories. Sharon's great-uncle Archibald skippered the Beatrice Beck. Bud's father, Percy carved the dories.
Next morning brings true Newfie weather, a light drizzle, fog swirling across the reach, clouds dark and heavy as a funeral pall.
Perfect mood for today's tasks. Today we pay respects to a multitude of forebears.
Sunken graves pockmark the Anglican cemetery at Muddy Hole. We wander between weather-eroded stones, stopping at a trio of markers—two upright, the third prostrate, face-down and mud-spattered.
One grave belongs to Uncle Rupert, another to Uncle Russell. Rupert died at 24, Russell was 13.
We scramble over the shallow barrier and turn the fallen stone onto its back. It belongs to Sharon's grandfather.
We wipe off the headstone and prop it against the wall so it won't deteriorate further.
Sharon's tears are silent but eloquent. Today there will be more tears.
We find her grandmother's grave at the United Church cemetery. We trudge through the bog there and stop at the empty tomb of her great-uncle Archibald.
His remains lie somewhere beneath the sea—hardly a unique case among the islanders. Beatrice Beck was taken down by a U-boat during the Second World War.
For me this is a fascinating historical adventure; for Sharon it is a painful pilgrimage.
And we've still got one more cemetery to go.
But first we must say goodbye to the living.
More memories at Bud and Mary's, more tea and toast with that killer gooseberry preserve.
Tears on Mary's part and on Sharon's part, as they hug for a very long time. Bud's not much for such emotion, not much for hugs. Back in the car Sharon turns to me. "Thank you for this," she says.
We go past the Matthews house for the last time. The lady who bought it waves at us. She has a package under her arm.
"Found this after you left," she says. "I remembered it was down the basement."
It's a photo of cousin Lorne in an Air Force uniform; it's 50 years old.
Sharon climbs out of the car, hugs the woman.
We drive to the last cemetery, paying our respects at the graves of another aunt, of uncles Alan and Aubrey.
Then I pay my own tribute to the spirit of Sharon's father, who so wanted to journey along this road but travelled instead on a much lonelier one.
"Godspeed," I say silently.
And now we drive north and west, following, in reverse, the road to Burgeo.
Today our car is populated by remembrances of things past, perhaps a benevolent ghost or two.
Today the road is a little less lonely.