Gourmet fare builds on Acadian roots
"If you come to my house, you can look in my fridge for something to eat." This is not an invitation. While I have no doubt Irene Maillet-Belley wouldn't mind a bit if I walked into her kitchen and snacked on her leftover poutine râpée, I'm almost sure she doesn't mean I should take her words literally.
The statement is more an expression of the warmth and hospitality that's second nature to Irene and the other people I meet as I search out Acadian culinary culture along the 375-kilometre Acadian Coastal Drive of New Brunswick, mostly along Route 11 from Campbellton to Port Elgin.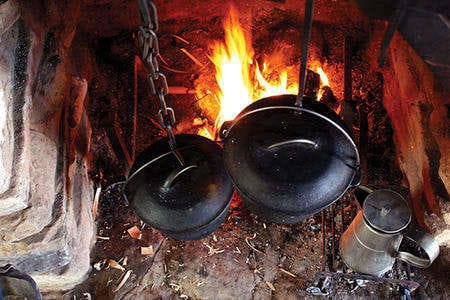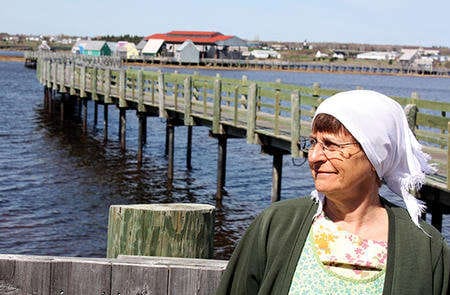 In her white headscarf and flower-print apron over flower-print dress, Irene could be La Sagouine herself. The embodiment of Acadian culture, La Sagouine—a cleaning lady with the gift of the gab—is the best known and much loved character created by the great Acadian author of 15 novels and a dozen plays, Antonine Maillet. Irene is the hostess here at Le Pays de la Sagouine, a small theme park on l'île-aux-Puces, a tiny island in Bouctouche dedicated to the great author. Tens of thousands visit here annually for the music, theatre and the cultural history told partially through food.
Irene hands me a plate with a generous helping of poutine râpée—the traditional Acadian potato dumpling stuffed with pork—and a slice of râpure or rappie pie, another potato-based Acadian dish. There's a puddle of molasses for dipping. I can't say the rappies are the most visually appealing grub I've ever seen, but as sustenance for hardworking lumberjacks, farmers and fishermen, this stuff is stick-to-your-ribs hearty. Still prepared today, they are comfort foods, cultural touchstones and popular at holidays and family gatherings.
It's not hard to find local restaurants with special Acadian offerings. On the menu at Restaurant La Sagouine just across the harbour from the park I find the two râpées and even a crêpe râpée. If you dare, try tarte aux coques or clam pie. Wild meats like the moose, rabbit, partridge and deer are replaced in restaurant preparations of traditional dishes with pork and chicken.
While there's plenty of gourmet fare along this coast, even in the finest restaurants, chefs take their cues from foods with roots in Acadian kitchens. Take Robert Noël, owner of the wine bar and restaurant in Caraquet called déjà BU! Looking out at the harbour from his dining room, he says, "That's where the bar clams on the menu are dug." Originally from Lamèque Island just up the coast, Robert learned his trade in the kitchens of resort towns like Banff and Jasper. He says he returned "to provide a great dining experience for local people." As the former head sommelier at the New Brunswick Liquor Board, Robert's specialty is pairing wines with new takes on local foods. "I don't want to sell a wine or a meal," he says. "I want to sell an experience."
Of Caraquet, he says, "We're rough around the edges, but with a little bit of style." That cultural combination comes through in his version of poutine. His duck fat double-fried potatoes are topped with chunks of lobster or bar clams and real curds, all smothered in rich Mornay sauce. With the main of Lobster Mac and Cheese, he serves a full-bodied Pinot Noir to balance all that butter.
Restaurants and their signature specialties like Robert's abound on these shores. I could run down the Homard Mobile in Caraquet for its lobster, crab and shrimp rolls like a child after an ice cream truck. The seafood pizza at Au P'tit Mousse in Lamèque sounds delicious. The cultural coming together of Japanese and Acadian fare at Mitchan Sushi , Caraquet has to be on any Acadian Coast bucket list, as do the creations of executive chef Mike Harris down in Shediac at Maison Tait House.
But my time is limited, so for a full immersion into Acadian culture, history and cuisine, I spend the following evening at the classic Hotel Paulin in Caraquet, built in 1891. Gerard Paulin—third generation family owner—greets me in crisp whites at reception. On the wall, a Victorian-era photo shows about 100 smartly dressed people crammed onto the two balconies over the street. The building looks little changed since that time. Another photo of Gerard's grandfather reveals a striking resemblance, bushy moustache and all.
Chef Karen Mersereau, Gerard's partner and an immense talent, emerges from the kitchen in welcome. In the Victorian dining room of white linens, the modern menu employs local foods as creatively as any I've seen. My sampling menu begins with sweet, briny oysters, raw and cooked, grown by La Maison BeauSoleil* in *Néguac. Next is an exotically flavoured bowl of soup made from mushrooms picked in nearby forests and fields by chef Mersereau herself. The effort exerted over the cold salad of whole shrimp and crab legs makes for a full and delicious experience.
Following dessert of apple cranberry tart, it's off to the comfort of my charmingly simple room—although equipped with modern amenities it has such a classic ambiance, I feel I should be handwriting a letter. With the creak of these century-old floorboards, I half expect to see La Sagouine herself carrying an armload of fresh linens and enough local gossip for an evening's entertainment.