2 Doors Down, Halifax, NS
Small town boy makes it big in the culinary world. If you find yourself in the downtown core of Halifax on a Saturday morning, chances are you'll run into chef Andrew Farrell making his way uphill from the Halifax Seaport Farmers Market to 2 Doors Down on Barrington Street. Andrew is at the market faithfully each week talking to producers and processors, checking what's in season and taking the very best finds with him to incorporate into his menus. If you see him, stop for a chat; I guarantee he'll be up for it, as he's one of the most affable and genuine people you'll ever meet, and he's got a wicked sense of humour to boot!
Born in Pictou, NS, Andrew did not set out to be a chef but, as he puts it: "I was a university student spending more time watching Jamie Oliver cook on TV than I was spending on my studies. My sandwiches were great but my grades were terrible." So he decided that maybe a career change was in order and enrolled in culinary arts.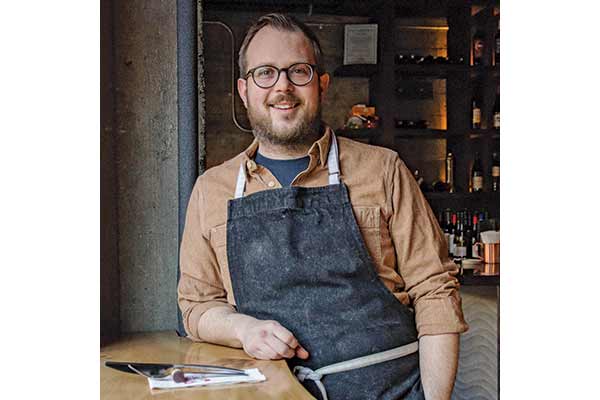 After graduating in 2004 from the chef training program at Algonquin College School of Hospitality and Tourism in Ottawa, Andrew went on to work across Canada and in the UK, before making his way back to Halifax to work in many well-known restaurants. Andrew worked as a sous chef with chef and entrepreneur Craig Flinn at Craig's popular Chives location for several years before taking the helm of chef Flinn's next venture, 2 Doors Down, so named for its proximity to Chives.
Here Andrew seems to have really found his niche. The mandate of the restaurant is to fully commit to local and Andrew has stayed true to that concept, offering some of the freshest and most innovative foods in the city. The restaurant has had no shortage of awards since opening, it was voted "Best New Restaurant" and "Best Use of Local Ingredients" by a readers' poll in The Coast and "Best Large Restaurant" and "Best New Restaurant" from the Restaurant Association of Nova Scotia. In 2014, Andrew won top accolades for his recipe "Crispy Greens Mac & Cheese" from the Dairy Farmers of Canada. We're all anxious to see him defend his title this year with his "Smoky Cauliflower Mac & Cheese."
Q What is your favourite meal?
A A lot of my all-time favourite things to eat are foods from my childhood. My mom's turkey dinner would rank very high on that list.
Q What accomplishment are you most proud of?
A I'm really proud of the food we've cooked at 2 Doors Down. When we were still in the planning stages, before opening in 2013, we had a vision of what the flavours of the restaurant should be and I think we've stayed true to that concept; classic Maritime foods with international influence.
Q What is your favourite ingredient to work with?
A It's hard to choose just one ingredient, but cheese definitely plays a big role in my cooking! I won the Grate Canadian Cheese Cook-Off in 2014, where I was tasked with creating a new macaroni and cheese recipe using local Nova Scotia cheeses. We've got such great variety of ingredients locally, it's fun to cook seasonally with what we have available here. This year farmers turned out kale in February, so we're really not limited by our long winter and shorter growing season.
Q What kitchen tools can you not live without?
A A good pair of small tongs and my santoku cleaver
Q What do you see as the upcoming trends in food?
A I'm seeing less meat protein on plates and instead pulses, grains and vegetables taking centre stage. I think we can also expect a greater influence from Middle Eastern cuisine.
Q Do you have any cooking tips you could share with us?
A Good food takes time. Don't press your burgers. Recipes are guidelines for experimentation.
Q Do you have a favourite cookbook?
A On my last holiday I had a fantastic meal at Ottolenghi in London, England. It's really neat to see a cookbook that you love come to life on a table. My favourite cookbooks offer insight into the author's approach to their style of cooking, and the operation of their restaurant(s).
Q What foods do you eat "in secret"?
A It's an open secret at work that I eat a lot of grilled cheese sandwiches (with pickles and crisp onions). We started making our own cheese slices at 2 Doors Down because I wanted to capture that gooey melt of a Kraft Single using real ingredients that you can pronounce.
Q What do you like to do when not in the kitchen?
A I'm really into politics, especially US politics. Reading about the current presidential race from every angle has got me staying up late poring over my iPad.
Q What is the most embarrassing thing that as ever happened to you in the kitchen?
A My first summer cooking I worked at the Pictou Lodge. An enthusiastic newbie, I was pretty embarrassed to earn the nickname "Pinky" after washing my chef whites with a red towel. I still wore them!
Q What do you refuse to cook?
A There's little I wouldn't cook with. I think we need to be creative with a wide range of ingredients, but margarine and overly engineered food substitutes have no place in my pantry.