Water-Prince Corner Shop and Lobster Pound
Located on the corner of Prince and Water streets in the historic district of downtown Charlottetown, PEI, the Water-Prince Corner Shop is easily recognizable by the fisherman's boots upside down in a barrel by the front entrance. Inside, you'll find some of the freshest seafood on the Island: lobster, famous PEI oysters, mussels, clams, crab, salmon and much, much more.
The business got its start at the Charlottetown airport as Airport Lobster. After many successful years at that location they moved to the downtown building, a former grocery store. Originally there were between 12 and 16 stools for sitting and enjoying a meal, but demand for the freshest seafood in town was so high, the owners opened a fully-licensed dining room with an outside patio more than 20 years ago. Most of the seafood on the retail side is also available in the restaurant—the locals come for the fish and chips and the tourists can't get enough of the lobster dinners. And everyone loves the seafood chowder. As owner Shane Campbell says: "We serve you generous portions. Nothin' fancy. Just plain good food."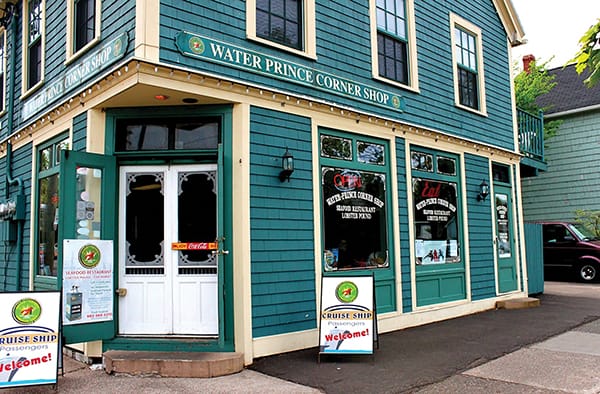 Shane is an Islander through and through, and over the years he has developed relationships with fisherman from all over the Island, personally visiting the wharves each day to bring the freshest catches directly back to the pound.
If you can't get to the Island yourself, or if you've been and want to share your experience with the folks back home, Water-Prince Corner Shop will ship live lobsters (anywhere in Canada) directly to you via Air Canada or FedEx. They will also cook lobster for travel or for large parties.
The shop itself is seasonal and runs from May 1st until late October. Shipping services for lobster are available from May 1st until Christmas; orders can be placed by phone or online. Information: (902) 368-3212 or waterprincelobster.ca. ~AB