A happy ending—finally
Editor's note:
The history of Chinese immigration to North America is one of brutal hardship, perseverance and sacrifice at many levels. Stories of racism and stereotyping in Canada are embarrassingly recent—yet this story does have a happy ending. Menial restaurant, railway and laundry work has given way to highly educated, professional and productive citizenry in every facet of modern life.
As a second generation Chinese Canadian, photographer and community historian, Albert Lee has been a familiar personality around Halifax for several decades. Albert is a research associate at Gorsebrook Research Institute for Atlantic Canada Studies at Saint Mary's University in Halifax. He has diligently researched the history of his ethnic forebears within the region, and presents a much-abridged sample of his findings here.
My father came to Halifax in 1916 as a nine-year-old boy, expecting to find streets paved with gold. Chuck Lee had seen older men return to his home village of Hoi Ping in southern China with small fortunes. They built brand new homes and had hired help for the rest of their lives. The Chinese referred to North America as "Gold Mountain." Famines, floods, Japanese invasions and political instability were all factors influencing early Chinese emigration.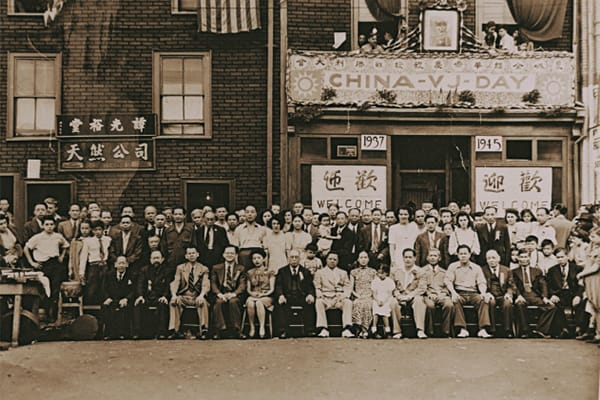 My father left Hoi Ping, a district 150 miles from Hong Kong. It took days trekking on dirt roads and through mountains, riding horse carts and travelling by sampan, riverboat, train and then steamship, to cover the distance to Hong Kong. They stockpiled food there before boarding the Canadian Pacific liner Empress of Asia for the three-week sail to Victoria. When my father arrived with my grandfather, Ngoon Lee, it was rainy and foggy. An old man they met in Chinatown, referring to the weather, said, "Wait until you get to Halifax: it's worse."
The train journey by boxcar took another week from Victoria to Halifax. My father and grandfather were among the very early Chinese arrivals and had a laundry on Bliss Street, called the Sam Wah Laundry. It was a former drafty old boat shed.
First arrivals
The first Chinese person to arrive in PEI was Louisa Mary Hooper. She came in 1850 and was married to Island politician William Hooper, who served overseas with Her Majesty's Commissariat. Louisa Mary (née Esperanza) Hooper was born in China and was half Chinese and half Portuguese. It is most likely she was born in Macau, which was a Portuguese colony off the southern coast of China.
Immigration records show that Chinese immigrants returning from Cuba and elsewhere in the Caribbean during the Golden Age of Sail (1830 to 1890) used Halifax as a port of entry to Canada. It allowed them to travel by rail to Vancouver, where they would continue the journey back to China.
Approximately 17,000 Chinese were recruited to help build the Canadian Pacific Railway because they had proven in the United States that they were good workers. In 1882, Prime Minister John A. Macdonald told Parliament: "Either you must have this [Chinese] labour or you cannot have the railway."
After the completion of the railway in 1885, the Chinese workers needed to find new jobs. Several thousand returned to China: many more could not afford the cost of the ticket and remained in British Columbia, especially in Victoria and Vancouver. Some moved to Eastern Canada.
Barred and humiliated
Anti-Chinese racism in British Columbia was triggered by economic slumps and early immigrants working for lower wages. They got a more welcoming reception in Atlantic Canada where a Chinatown ghetto was never established.
From 1885 to 1923, a Head Tax was charged to Chinese immigrants entering Canada. It started at $50 and was raised to $500 in 1905. (At the time the average annual wage for production workers in Canada was $375.) Ships inbound to Canada were not allowed at the time to carry more than one Chinese immigrant per 50 tons of displacement. Approximately $23 million (more than $1 billion today) was collected between 1886 and 1923 by the Government of Canada.
Chinese people in Canada marked Dominion Day, July 1, 1923, as "Humiliation Day" as it was the beginning of the era of near total exclusion of Chinese immigrants to Canada. Only seven Chinese legally gained entry between 1923 and 1945.
The Chinese Immigration Act (also known as the Exclusion Act) of 1923 effectively halted the development of whole Chinese communities across the country. These Chinese immigrants were mostly men, some of whom had wives and families in China, but were called "bachelor men" in Canada. They were also barred from most jobs and professions, which is why we associate Chinese Canadians with restaurants—it was one of the few occupations, along with the now-defunct laundries, they could pursue.
Opportunities for work
In North Sydney on June 15, 1895, Mac-Talla, a Gaelic newspaper, reported on the arrival in Cape Breton of the first Chinese immigrant workers.
The John Ling Laundry was the most prominent Chinese laundry on PEI; first opened in 1894, it had the distinction of operating for more than 70 years, even after Ling's death in the 1960s. His descendants still live on PEI.
Chinese immigrants in Saint John had surnames such as Lee, Hum, Wah and Wong. Moncton had the second largest population of Chinese arrivals because it was the railway centre of the region. Fong, Lee, Kwong, Hong and Toy were surnames of these early Moncton settlers.
In rural towns across the Maritimes, there were many opportunities for laundries and restaurants in the busy traffic areas near train stations. Halifax, Saint John and Charlottetown had many Chinese laundries and restaurants within walking distance of the waterfronts.
Support and protection were offered in the bigger urban city Chinatowns of Vancouver, Toronto and Montreal for some of the displaced railway workers in the late 1880s. Montreal received 1,000 of these workers at the turn of the century and eventually became a home base for Chinese people moving to the Maritimes. The Chinese population in Nova Scotia rose from 106 in 1901 to 134 in 1911.
From 1912 to 1923, there were 20 new Chinese immigrants to the Maritimes—nine to New Brunswick, nine to Nova Scotia and two to PEI.
Long hours, hard work
The early arrivals in Charlottetown in 1901 all lived in a rooming house above their laundry. They faced 18-hour days of washing, wringing and ironing. Early Chinese immigrants operating laundries in Gold Mountain earned 90 cents to a $1.50 a day—compared to nine cents a day working in agriculture in rural China.
The size of the laundries varied from a single owner/operator to as many as four or five helpers at the peak of their operations. The Jim Lee Laundry and John Ling Laundry in Charlottetown, and the Charlie Wah on the corner of Barrington and Kent Streets in Halifax were the largest.
Billeted lumberjacks by the thousands, working in the mills in towns like Dalhousie, Campbellton, Grand Falls, Newcastle and Woodstock, NB, created opportunities for laundries and restaurants in the 1930s and 1940s.
Most small towns in New Brunswick had sawmills and nearly every trade was involved in shipbuilding. Chipman was the leading coalmining centre in the 1930s, and there were three Chinese men who did the laundry for the miners.
Adapting to change
Once the mining and sawmills declined, the laundries and café owners moved to better opportunities elsewhere in the region. Money earned from laundries financed cafés for many families. The Wong Leit Laundry in Antigonish is an example of this evolution: it became Wong's Restaurant, which has been a fixture on the main street for decades. Another example is the Fong Lee Laundry, which was a block from the train station and is now the House of Lam on Mountain Road in Moncton.
Most of the owners and staff had learned their skills working as cooks in lumber camps or on trains, as well as domestic workers for wealthy families, before arriving in the Maritimes, where they would find work at a relative's café.
In 1923 the Canada Café opened in Campbellton. It was the first start for the Fong family, which later moved to Halifax and opened the Bon Ton Café at Barrington and Sackville in 1940—then opened the highly popular Garden View Restaurant in 1944 on Spring Garden Road after a fire at the Bon Ton. The restaurant still exists and is located on Main Street in Dartmouth and is owned and operated by third generation descendent, Greg Fong.
Hum Wing Ho worked for a café in Saint John. In the 1950s, he eventually owned the Mayfair Café on Gottingen Street in Halifax. In his possession was an English/Chinese book, published in San Francisco in 1935 and widely distributed. It contained western-style recipes, as well as instructions on how to prepare a Christmas dinner for a family, and how to prepare yourself for applying for domestic work as a houseboy.
Among the other items in Hum Wing Ho's possession was a jacket and vest, which he wore behind the cash register. They were woven and stitched with two-inch by three-inch patches of salesman's cloth samples—a perfect example of the frugality of the early Chinese immigrants.
A growing community
In the 1950s and 1960s, Hum Mow's Restaurant, located on Grafton Street in Halifax was in a basement and mahjong (a Chinese game similar to rummy) was played on the main floor while a Chinese benevolent association was on the second floor. Hum Mow was rated by a national Canadian magazine as one of the best Chinese cooks in Canada.
Big black Cadillacs pulled up in the evenings with men dressed in tuxedos and women wearing fur coats. The folks at the American consulate also frequented the restaurant (popular because it served Scotch or rum in teapots at a time when men were not allowed to consume liquor in public with women).
In Halifax, Fort Massey, Saint Paul's Anglican and Saint Andrew's churches taught English classes and had services for early Chinese arrivals. The local YMCA hosted social activities to help members of the local Chinese community adapt to their new surroundings.
The war years
During the First World War, "coolie" labourers from China passed through Halifax by train, accompanied by armed soldiers, in locked boxcars. They had signed three-year contracts and journeyed for about 100 days across the Pacific and by train from British Columbia in stifling conditions. Most transited through Canada in secrecy and were packed into railroad cars, where some failed to survive the cramped conditions. Upon arrival at the Western Front, they were put to work digging trenches in the battlefields of Europe.
During the Second World War, Halifax's population grew exponentially as merchant convoys gathered before crossing the Atlantic. There were many opportunities for some of the early Chinese arrivals to rent rooms and open cafés. My father, Chuck Lee, bought a rooming house on Brunswick Street, near Cogswell, in Halifax. Halifax was so crowded, beds were rented out to factory workers at night and sailors slept in the same beds during the day.
The Lings were the first Chinese farmers in Nova Scotia. They owned a farm in North End Halifax in the 1930s, across from Rockhead Prison. It overlooked Africville and Bedford Basin. How Ling sold his vegetables on his horse-drawn cart, along Gottingen and Agricola streets to various corner stores and restaurants.
He would arrive at noon at the corner of Brunswick and Sackville streets, have a break at a Chinese laundry and smoke his water pipe. After finishing his last 10 or 12 stops downtown, his cartload of turnips, carrots, cabbages and potatoes would yield him about $30 for the day. Eventually, he opened the Imperial Café on Lower Water Street, near the present-day law courts and then the Glory Café on Barrington and Cornwallis, across from the navy dockyards. Many fights among drunken sailors occurred in the evenings and furniture and windows often were damaged.
In 1941, during the Second World War, Canada and China became wartime allies and more than 500 Chinese Canadians enlisted for military service. Sam Wong of Pictou lied about his age (he was past 60) and served overseas.
During the Korean War, George Ling (whose family had owned the first farm) also lied about his age (he was too young), and served in Korea in 1952. He was wounded and decorated as a war hero.
George's brother, Willy Ling, worked in the Merchant Navy and his ship was torpedoed by a German submarine at the mouth of Halifax Harbour. He became a radio operator at the dockyards. His knowledge of tube radios from the 1950s led him to serve as a special advisor for the Canadian military during the Gulf War in the 1990s.
A brighter future
The Chinese Exclusion Act was repealed in 1947, due mainly to the contribution of Chinese Canadians while serving in the Canadian military. My mother and my sister Nancy, who was 14, were allowed to come to Canada in 1949 after being separated from my father for more than 20 years. (Nancy was born after a trip to China by my father.) Nancy had only known my father from photos he had sent to China with money in letters. It was one of the happiest days in my father's life when he greeted my mother and Nancy at the Vancouver airport.
In 1952, the year I was born, there were 44 Chinese-owned cafés and restaurants, and more than 15 laundries, in Halifax and Dartmouth alone. During the 1950s and 1960s, old Chinese men who could not return to China would pay cash in dusty, moldy envelopes for their final destination at Snow's Funeral home on Argyle Street—the only one in Halifax that would attend to the Chinese community because of ongoing racism.
Many of the families moved in the 1960s to other parts of Canada, but among those who stayed, laundries and restaurants became history. For example—Nova Scotia Supreme Court Justice, Linda Lee Oland and her brother, internationally renowned ocean scientist Dr. Ken Lee (now working in Australia), grew up above the Charlie Wah Laundry on Barrington Street.
Danielle Fong, a daughter of Greg and Trudy Fong, entered Dalhousie University at the age of 12 and graduated at 17 with honours, majoring in computer science and physics. She entered Princeton University on full scholarship before starting LightSail Energy, based in San Francisco—a multi-million dollar renewable energy company backed by Bill Gates.
Regan Fong grew up on top of the Garden View Restaurant on Spring Garden Road in Halifax. He was the first Asian to become a Halifax Regional Police Sergeant.