Café Flora, Edmunston, NB
Paula Lentz grew up in Perth, Ont, on a small hobby farm with a huge garden. Her family sold fruit, vegetables and homemade baked goods from a roadside stand.
Lentz moved to Baker Brook, NB, almost 18 years ago, and spent 13 years painting wooden birds hand carved by her husband Luc Cyr.
In 2009, Lentz had a culinary awakening. She started working part time at a local café and knew right away she wanted to create food for a living. It was an instinct. Now she's the chef at Café Flora, a restaurant she helped found in the New Brunswick Botanical Garden near Edmunston, NB.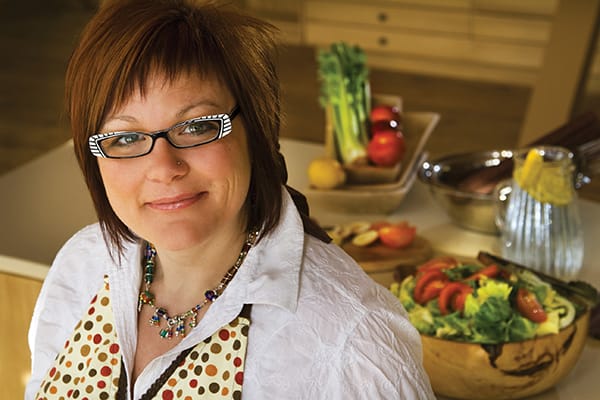 Q What inspired you to become a chef?
A Without a doubt, Julia Child. Growing up we had a rooftop antennae that gave us questionable reception for three stations, one of them being PBS. Most of my Saturday mornings were spent cooking with Julia Child.

She intrigued me, and in a comforting way reminded me of my Grandma Lentz, who was a great cook and could whip up magical things with no recipes.
Q Who do you look up to?
A Luc Cyr, my partner and best friend for almost 18 years now. He is an incredible man, and a talented woodcarver and artist. He is gentle and patient. He is humble and optimistic. I love and admire him more every day.
Q What's your favorite ingredient to work with?
A I love butter. Butter makes everything better.
Q What kitchen tools can't you live without?
A I can't live without my cast-iron frying pan, my stand mixer and my sketchpad and pencils. I'm an artist, so I will often sketch and colour my dishes on paper when mentally creating them.
Q Do you have any predictions for upcoming food trends?
A To be honest I don't really follow the trends. I believe in using local ingredients whenever possible and I get excited to share these with people by highlighting them in my menus.
Q Can you share any cooking tips?
A I have two tips: One, always set a kitchen timer. Two, do not make a wedding cake with Italian meringue butter cream in 30-degree weather.
Q Do you have a favorite cookbook?
A I get great amusement and inspiration from The Flavor Bible by Karen Page and Andrew Dornenburg. It's a great way for inspired cooks to get creative by cross-referencing lists of ingredients and their flavour pairings.
Q What's your guilty food pleasure?
A Ghirardelli bittersweet chocolate chips. I've come to the realization it's safer not to have any in the pantry.
Q How do you spend time outside of the kitchen?
A What? There's life outside of the kitchen? Actually, I love painting—mostly acrylics. I love to take hikes in the woods with my golden retriever, Buckwheat, and read a great novel next to my antique wood cook-stove in my studio.
Q If you could cook for any three people, who would they be and why?
A I would cook for my Grandpa and Grandma Lentz because I know how much they loved good simple food. I'd also cook for Larry Vlanich, a retired chef who converted an old school bus into one of Ontario's infamous chip wagons. He gave me a job at the tender age of 14 and taught me basic cooking skills.
Q What do you refuse to cook?
A I almost never refuse to cook anything. I try to keep an open mind with food and culture.