Oh honey, here's a real catch
Our readers delight with their delectable lobster and honey dishes
by Alain Bossé
food photography: Perry Jackson
IT'S ONE OF my favourite times of the year, something I always look forward to, and wouldn't miss for anything. For our annual recipe contest I go on the road with some of the amazing ladies from our Saltscapes team: co-publisher Linda Gourlay, editor Heather White and recipe contest co-ordinator Sylvia Ernst. Each year we explore a different corner of Atlantic Canada, leading up to "Judgement Day," where we evaluate the finalist recipes submitted by our readers. This tradition began with our founding food editor, Marie Nightingale.
Last year we travelled Nova Scotia's Eastern and Northumberland shores; the contest featured the king of the sea, Atlantic Canada lobster, and honey, nectar of the gods. After reading, reviewing and sorting through hundreds of recipes we came up with the top six in each category. With the help of chef Gilles Godin and his students at the NSCC campus in Stellarton, NS, we carefully prepared the recipes, as per the entrants' exact instructions, for our esteemed panel of judges to enjoy.
Our judges were Ann MacGregor, radio host with 94.1 East Coast FM; chef Thomas Carey from Pictou Lodge Beach Resort; Steve Smith, owner of Central Home Improvement and Atlantic All-Weather Windows; and Lisa Hawkes, a manager with Sobeys. After their taste buds had been tantalized and bellies had been filled, the scores were tabulated and the winners announced.
It gives us great pleasure to present our grand prize winner, along with the top three in each category; we hope you will enjoy them as much as we did. And remember to enter your favourite recipes in this year's contest—the categories are (cue the drum roll, please) cranberries and maple syrup.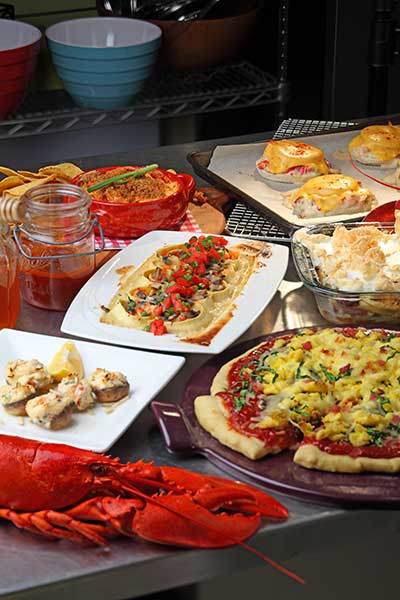 GRAND PRIZE
Lobster Italiano
Grace Killawee
(Bedford, NS)
GRACE CREDITS her professional career for her fine ability as a cook, a sentiment readily echoed by her husband, two sons, four grandchildren and the many dinner guests she loves to entertain. With her talent, one might think that she had perhaps worked in kitchens—maybe in a restaurant or café—but Grace spent her career in the microbiology lab at both the IWK and Victoria General Hospital in Halifax. Grace says her work as a medical laboratory technologist helped her take a more scientific approach towards food, enabling her to recreate meals at home that she and her husband have enjoyed on their travels.
Grace's winning recipe is her take on a memorable dish they had on a recent trip to Italy. Although Grace says she had not previously been a fan of Italian food, when she tried this dish, she knew she wanted to try to duplicate it.
Ever methodical, she began to educate herself on the process of Italian cooking: visiting local Italian markets and familiarizing herself with the proper method of using Italian ingredients. While in Italy, Grace also gained an appreciation for serving a pasta dish as an appetizer and that's how the dish was served.
Grace had previously made this dish with ham, but substituted Atlantic Canada lobster for our contest. Now retired, Grace and her husband are hoping to continue their adventures abroad. While at home, they like to keep their minds sharp by taking courses at the Seniors College Association of Nova Scotia (SCANS), where they have enrolled in courses that include Russian and Jewish history, and a study of Islam.
2 tbsp (30 mL) butter
6 button mushrooms, diced
3 cloves garlic, diced
2 cups (500 mL) whipping cream
½ cup (125 mL) white wine
2 tomatoes, diced
2 tbsp (30 mL) chopped green onion
1 tbsp (15 mL) chopped fresh basil
1 tbsp (15 mL) chopped fresh parsley
2 fresh pasta sheets (8 in x 16 in)
1 cup (250 mL) shredded parmesan cheese
2 cups (500 mL) freshly cooked diced lobster meat
1 cup (250 mL) grated mozzarella cheese
Melt butter in large fry pan; sauté mushrooms and garlic in butter for 1-2 min. Over medium heat, add cream and white wine to pan, slowly bring to a boil. Remove from heat and set aside.
Mix together tomatoes, onion, basil and parsley in a bowl. Set aside.
Unroll pasta sheets; sprinkle ½ cup (125 mL) parmesan over each sheet, then 1 cup (250 mL) lobster, covering all but 1 in of the edge. Roll up each sheet lengthwise and cut into 12 pieces. Place each piece, cut side up, in a 7" x 11" baking dish, with subsequent pieces holding the roll in place. Pour cream mixture over the rolls; sprinkle grated mozzarella over top and cover dish loosely with aluminum foil. Bake at 350°F (180°C) for 30 min. Remove from oven. Place 3 rolls on each plate with some cream sauce. Garnish top with small amount of tomato mixture. Makes 8 servings.
Honey Category: FIRST PLACE
Honeyed Apple Scallop
Renovia Spence
(Springhill, NS)
THIS RECIPE proves great things stand the test of time. Renovia Spence is 78 years young and remembers her grandmother serving this dish. After her grandmother died, Renovia's Aunt Doris became the keeper of the recipe and taught Renovia how to make it.
Renovia and her late husband were married on February 14th—a romantic day on which to wed, ensuring he never forgot their anniversary, Renovia said. The Spences were a navy family and lived in various ports over the years: Halifax, Bedford, Digby and Shelburne. They were delighted when they could return to their hometown of Springhill, where Renovia now resides.
Renovia's love for family is evident when she speaks of her five children (one since deceased), nine grandchildren and nine great grandchildren. She also speaks with pride about helping to raise her six younger brothers.
Renovia doesn't talk much about her love for cooking and baking, preferring to focus on her family, but as a Saltscapes prize winner in 2005, we know behind her modesty is a lot of talent. We'll let the recipe speak for itself.
6 cups (1.5 L) sliced apples
1 cup (250 mL) chopped figs or dates
Crumb mixture
½ cup (125 mL) finely crushed cornflakes
½ tsp (5 mL) cinnamon
½ cup (125 mL) coconut
Liquid
½ cup (125 mL) honey
2 tbsp (30 mL) butter
½ cup (125 mL) boiling water
Arrange alternate layers of fruit and crumb mixture in a medium-sized casserole (or 8 individual baking dishes), ending with a layer of crumbs.
Stir honey and butter into boiling water and pour into casserole—near the edge, not on crumbs. Cover loosely with a piece of foil (to keep apples from drying on top and let crumbs remain crisp). Bake at 375°F (190°C) until apples are tender—about 30 minutes; or 20 minutes for individual dishes. If desired, cover with meringue.
Meringue
2 egg whites, beaten until fluffy
¼ cup (50 mL) honey
½ tsp (2 mL) vanilla
Beat honey gradually into egg whites and add vanilla. Top dessert with meringue and brown in oven 6-8 minutes. Makes 8 servings.
SECOND PLACE
Honey Ham Breakfast Pizza
Terri Gilson
(Calgary)
WHEN TERRI Gilson was a teenager she despaired over whether or not she had a special talent. Some years later she found herself in the kitchen and her questions were answered—she was an avid cake decorator! In time, however, she found herself drawn more to the inside of the cake and less to the outside; intrigued by how recipes worked she started trying to develop her own. Not only had she found a talent but a passion as well.
Whenever Terri, who works full time and is a mom of two, has a spare moment she heads to the kitchen. On a recent search for comfort food Terri began thinking of pizza and how people love a cold slice of pizza for breakfast. She decided to focus on creating a breakfast pizza.
Terri had been playing with variations of a mustard chicken recipe and, thinking the sauce would make a great pizza base, put it all together to serve to her kids. It didn't fly. Terri wasn't deterred, however, and decided to enter it into our contest, fully believing that she was onto something.
We agreed.
Terri was especially excited to place in the Saltscapes contest because she appreciates the fact that it is a contest that doesn't get lost in any glitz and hype, keeping the focus instead squarely on food with a downhome feel.
The base pizza dough was adapted from a quick recipe she found on allrecipes.com.
Pizza is the quintessential Canadian comfort food! This pizza is unique. The tangy and sweet honey mustard pizza sauce and scrambled egg set it apart, while the ooey-gooey mozza cheese and ham scream comfort and familiarity!
Have it for breakfast, brunch or even supper—I do!
Pizza dough
¼ oz (8 g) package active dry yeast
1 tsp (5 mL) granulated white sugar
1 cup (250 mL) warm water
2½ cups (625 mL) all-purpose flour
1½ tbsp (25 mL) olive oil
1 tbsp (15 mL) liquid honey
¼ tsp (1 mL) salt
Honey mustard pizza sauce
½ cup (125 mL) liquid honey
¼ cup (50 mL) Dijon mustard
½ tsp (2 mL) oregano
1 tsp (5 mL) minced garlic
¼ tsp (1 mL) onion powder
1 tbsp (15 mL) parmesan cheese
½ tsp (2 mL) basil
1 tbsp (15 mL) brown sugar
1 5.5 oz (155 mL) can tomato paste
Topping
6 eggs
1½ cups (375 mL) chopped ham
1 cup (250 mL) sliced fresh mushrooms
1 cup (250 mL) fresh baby spinach leaves
2 cups (500 mL) grated mozzarella cheese
Dough
Preheat oven to 450°F. Spray a 12" pizza pan with non-stick spray. In a medium bowl, dissolve yeast and sugar in warm water. Let stand until creamy, about 10 minutes. Stir in flour, salt, honey and olive oil. Stir until smooth. Let rest for 5 minutes.
Sauce
Mix all honey mustard pizza sauce ingredients together.
Topping
Scramble eggs and add ham, mushrooms and spinach. Cook until just about done 2-3 min (eggs are still a bit wet, but not runny).
Assembly
Turn pizza dough out onto lightly floured surface and roll out into a flat circle. Transfer to a 12" pizza pan. Spread sauce and add scrambled egg mixture over top. Sprinkle with grated mozzarella cheese and bake for 15-20 minutes until cheese is browned and bubbly. Cool for 5 minutes before serving.
THIRD PLACE
Honey Sauce Beautiful
Christine Mirabelli
(Fall River, NS)
CHRISTINE SAYS this recipe is one she started tweaking more than 35 years ago. She started with a recipe book by Princess Pamela, a soul food cook and restaurant owner from New Orleans. The book fell apart many years ago and the one recipe she treasured was for Sauce Beautiful. As it happened, Christine had made this recipe several times but substituted ingredients and added things that appealed to her own taste over the years. She thinks the changes were improvements, though she says Princess Pamela might not have agreed.
Christine has used the sauce in many ways but says she has received the most raves when uses it for barbecued meats, with or without the addition of traditional tomato-based barbecue sauce. The natural sugar in the honey caramelizes the sauce on the surface of the meat to create a sticky, sometimes crispy, coating that seems irresistible. She says having extra sauce on the side for dipping is a tasty bonus. I agree.
½ cup (125 mL) peach jam
½ cup (125 mL) water
Juice of 1 lemon
3 tbsp (45 mL) honey
1 tbsp (15 mL) butter
1 tbsp (15 mL) corn oil
1 tbsp (15 mL) cider vinegar
½ tsp (2 mL) paprika
½ tsp (2 mL) Worcestershire sauce
¼ tsp (1 mL) garlic powder
⅛ tsp (.5 mL) cayenne pepper (or to taste)
⅛ tsp (.5 mL) salt and pepper (or to taste)
Combine all the ingredients in a small saucepan and stir together.
Cook over medium heat until the sauce reaches a slow boil, which takes 3-4 minutes, then, stirring from time to time to avoid sticking and burning, cook for 10 minutes or so. Makes about 1 cup (250 mL) of sauce. Serve as is, at the table, over cooked chicken or pork, or pour it over oven-baked chicken or pork in the last half-hour of cooking to add extra flavour to the meat. Or use it as is or combined half-and-half with your favourite barbecue sauce as a dipping-sauce for ribs or chicken.
Lobster Category: FIRST PLACE
Lobster Dip
Murielle MacNeil
(Dartmouth, NS)
MURIELLE MACNEIL once received a recipe from her friend and co-worker Elaine MacDonald of Judique, Cape Breton. Murielle, like many of our Saltscapes readers, likes to fiddle with recipes to make them her own. Little did she know that 30 years later that same recipe would win her first prize in a cooking contest!
When asked what it was about this particular recipe that kept her making it for so long Murielle replied that "sometimes the simplest things are the nicest." We couldn't agree more. Her family also agrees and they often request this dish, especially during the Christmas holidays. An easy and tasty appetizer, this dish is great for a pot luck dinner or when you have people over for a special gathering, such as a wedding or baby shower.
Murielle serves it with crackers but always puts out cut up vegetables as well, for those who like to keep things a bit healthier.
Murielle, an avid cook, grew up in the small town of Atholville, NB, where her father worked for the local mill. Upon graduation she received a full bursary from the mill, which took her off to the Collège de Bathurst, where she obtained a degree in mathematics and physics from the Université de Moncton.
Following graduation, she moved to Cape Breton and later to Halifax where she was employed by the federal government, first as the manager of the employment centre in Port Hawkesbury and Inverness before moving to Halifax to work for the Federal Council of Nova Scotia. Now retired, Murielle is proud to have worked on implementing the Community Access Program (CAP) sites that still exist in Inverness and Richmond counties.
When not in the kitchen, Murielle enjoys spending time downhill skiing, sailing, doing yoga, reading and walking.
1 8 oz pkg (250 g) cream cheese
6 tbsp (90 mL) mayonnaise
1 tbsp (15 mL) chopped onion
2 tbsp (30 mL) seafood sauce
1 tsp (5 mL) chopped parsley
1 lb (500 g) lobster meat
Topping
½ cup (125 mL) bread crumbs mixed with 2 tbsp (30 mL) butter
In a medium pot over medium heat, mix the following ingredients for about 5-7 minutes, until smooth (do not boil): cream cheese, mayonnaise, chopped onion, seafood sauce, chopped parsley. Remove from heat and fold in lobster. Pour in serving dishes. Sprinkle the bread crumb mixture on top and bake for 25 minutes at 350°F (180°C). Serve with crackers and/or cut vegetables.
Tip: make this ahead then freeze it to cook later.
SECOND PLACE
Lobster Stuffed Mushrooms
Susan Leslie (Halifax)
SUSAN LESLIE has a passion for cooking that is surpassed only by her passion for collecting cookbooks. Those two hobbies came together to produce the second place winner in our lobster category.
About 10 years ago Susan came across a recipe for stuffed mushroom caps that called for crab, shrimp and apple juice. She made the recipe and while she enjoyed it, she knew that she could improve on it.
She mainly wanted to produce a dish that would showcase Nova Scotia ingredients.
Susan created several variations. In the process she discovered that NS chardonnay is the perfect substitute for apple juice, and that by varying the type of mustards she could greatly manipulate the final flavour.
This past spring, when her son was home from Texas, Susan, who also has a daughter in Halifax, wanted to make the dish for him, as it was a favourite. She didn't have the crab or shrimp on hand, so used leftover lobster instead. The result was such a hit Susan knew her days of tweaking were over, she had a winner. We thought so too!
2 small pkg white button mushrooms
1 8 oz pkg (250 g) cream cheese
3 green onions, chopped
2 tbsp (30 mL) white wine
1 tbsp (15 mL) Dijon mustard
1 cup (250 mL) chopped fresh or frozen lobster
Slivered almonds for topping (optional)
Clean mushrooms and remove stems; chop green onion. Soften cream cheese; add white wine, green onion, Dijon mustard and lobster.
Mix well and leave in fridge till flavours marry. (Susan says she makes it the night before.) Stuff the mushroom caps with the lobster mixture. Bake in a 350°F (180°C) oven for 20 minutes. Top with slivered almonds, if using, and put back in oven for 5 more minutes. Delicious!
Tip: Serve the filling on its own as a dip. It makes a wonderful appetizer.
THIRD PLACE
Lobster Marg
Marg MacDonald
(Stanhope, PEI)
MARG MACDONALD and a friend developed this recipe many years ago as a riff on a tuna melt, but the lobster elevates it far beyond! Yet it's not "so special" that Marg reserves it for special occasions—she whips it up whenever the mood strikes.
3 tbsp (45 mL) butter
3 tbsp (45 mL) flour
1½ cups (375 mL) milk
½ cup (125 mL) white wine
Salt & pepper (to taste)
2 tbsp (30 mL) chopped green pepper
2 cups (500 mL) cut up lobster meat
6 English muffins
1tomato, cut into 6 slices
6cheese slices
Paprika (to taste)
In a saucepan, melt butter; add flour and mix well. Whisk in milk and white wine, season with salt and pepper and whisk until mixture thickens.
Sauté green pepper; add it and lobster meat to sauce. Stir and keep warm.
Split and toast English muffins (very lightly) under broiler. Remove from oven. Pour sauce over each muffin piece.
Top with a slice each of tomato and cheese. Sprinkle with paprika. Bake in a 375°F (190°C) oven for 5-8 minutes, or until cheese is slightly melted. Makes 6 servings.