How to use summer savory - spanning Atlantic Canadian cultures - to spice up the holidays.
The wonderful scent of summer savory is in the air-a sure sign that the holidays are around the corner. It's a popular herb worldwide, but Atlantic Canadians are one of its largest consumers outside the Middle East, where it's grown for medicinal purposes. Europeans use it in bean dishes because it's thought to help prevent gas; the French in particular use summer savory in herbes de Provence blends, combining it with fennel, basil and thyme.
Although in Nova Scotia, PEI and New Brunswick the herb is referred to it as summer savory, in Newfoundland it's simply called savory. It's a staple in the Acadian dish fricot, a chicken stew with dumplings; Newfoundlanders use it in fish cakes and also Jigg's Dinner, a boiled dinner of salt beef, potatoes, turnip, turnip greens and cabbage; and people generally use it in stuffing. The herb is great to use as an alternative to salt because it has such a strong flavour.
Atlantic Canada's largest producer of summer savory is Farmer John's Herbs, in Canning, NS. The farm originally grew a variety of vegetables; in 1978, a women's missionary group was looking for fundraising opportunities, and John Lohr's dad, Bram, offered them a parcel of land on which they could grow summer savory. The group made $1,500 from the harvested herb, which exceeded everyone's expectations. Bram Lohr continued to produce small quantities of savory over the years, and in 1999 he bought the business that he had been selling it to, so in effect he would sell directly to consumers. He also developed systems that improved its production and harvesting-including machinery to clean and grade the herb (traditionally it was hand-rubbed to remove debris.) Once clean, the summer savory is kiln dried at just the right temperature to keep the essential oils intact.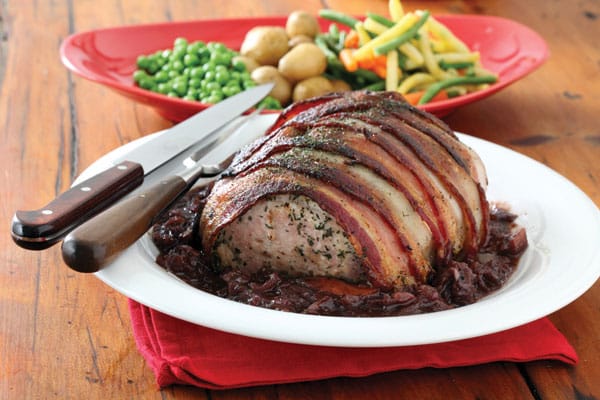 Three years ago John decided to focus all his energy on producing summer savory; last year he planted 60 acres, produced approximately 20,000 pounds. Three generations of Lohrs worked on the farm this summer: Bram, 78, is still active, and John's four sons also work the land or help out as well. (One son, Justin, got married last summer amid a field of winter rye on the farm, overlooking the ocean.)
Farmer John's also sells stuffing mixes, meat rubs, chowder mixes and dip seasonings, and is involved with school fundraising projects, where kids sell its products from a brochure; half the proceeds are donated back to the school.
Across the pond, overlooking the Northumberland Strait in South Pinette, PEI, is 70 acres that Kevin and Marcella Ryan call home. They also produce summer savory but on a much smaller scale and for different reasons. Kevin is a musician so is accustomed to life on the road; currently he lives in Calgary during the winter, where he works in human resources for a seismic exploration company. He's fortunate to have an employer that allows him to travel back to PEI in the summer, where he and Marcella tend their savory crop, and have recently opened a beach house for rent.
They plant six acres annually, which yields 2,000 to 3,000 pounds of savory. Kevin comes to his love of farming by way of his dad, who started the family savory business in Torbay, NL. He sold the bulk of his crop to a company called Mount Scio, which is one of Newfoundland's oldest savory companies. When Kevin was 10, his dad sold the farm in Newfoundland and moved the family to PEI, where he created his own brand of summer savoury called Bona Vista - what Kevin grows and sells today. Kevin's sister still resides in Newfoundland, and sells Bona Vista summer savory direct to retailers and restaurants on their behalf; the remainder is sold via mail order to ex-pats around the world. This year, along with a healthy harvest the Ryans welcomed their first child, Seamus Patrick; another is due to arrive next spring. With a third generation in place who knows how big this savory farm will grow.
Recipes featured in this article: