New technologies are making live-aboard motorboats economical, and fun
SAILING IS great, but returning on time can be a challenge. Eventually I cast off the bow line, selling the Jeanneau. Bitter end. A lifetime of messing around in boats stays in one's blood though, and I began considering other boating options. A powerboat could keep a tighter schedule but, let's face it, most live-aboard motorboats are petro-pigs. I decided to investigate new possibilities created by recent technologies.
The idea of a small, well-built commercial fishing-style vessel began to take shape. A semi-displacement hull would offer efficiencies at both cruising and planing speeds. A forward cuddy could sleep two, convert to sofa seating during the day, offer privacy for a portable toilet and provide storage. The pilot house would have standing headroom, windows that opened, adjustable seating and space for a galley. The aft section would have a traditional open cockpit for fishing and socializing outdoors, with a self-bailing, non-carpeted floor. Lots of outside railings would assist on-deck manoeuvres in heavy seas. A fuel-efficient outboard motor would complete the package, which could be trailered with a small truck.
The boat I found that fit our wish list was the Seabreeze 23 Pilothouse, made in Newfoundland by Fibreglass Works Ltd. A bracket on the stern places the propeller away from the hull, so it encounters less turbulence, cutting through water more efficiently. The aft section of the pilothouse was open, so I designed a rear wall with a centre sliding door.
The pilothouse and cuddy somewhat resemble a VW Westfalia camper. The seats swing around, slide forward and back, and adjust up and down. I installed LED lighting, a refrigerator that draws only 2.2 amps at 12 volts and a two burner alcohol stove for safe cooking. I placed a water tank under the cockpit floor to supply a faucet and sink. Using oak frames for strength, and western cedar for lightness, I built cabinets, drawers and countertops. The cuddy also has LED lighting, a storage cabinet and a low amperage 12 volt fan to vent summer heat through the hatch. My wife sewed drapes, net slings and screens.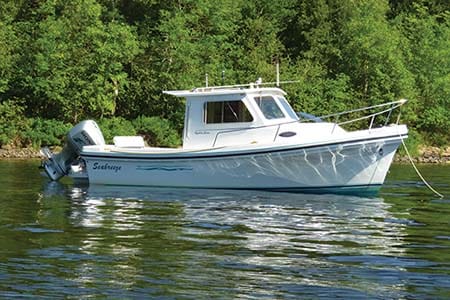 "The pilothouse and cuddy somewhat resemble a VW Westfalia camper"
The outboard motor was a major consideration. The relatively new four-cycle outboards are fuel efficient but more complicated than earlier, two-cycle outboard engines. If something ever goes wrong, the Honda 225 outboard on the Seabreeze can easily be trailered to the car dealership and hooked into the car analyzer. The stern transom holds two 12 volt marine batteries. Both charge while underway; one supplies electricity with the motor off. They also power a GPS chart plotter, a depth sounder/fish finder, marine radio and a host of gauges that keep the captain well-informed.
The entire outfit, including a dual axle trailer with torsion bar suspension and disc brakes, weighs in at about 6,000 pounds. It can be towed by my six-cylinder Toyota Tacoma truck.
The Kingfisher, as we call the boat, has been trailered repeatedly to the Bras d'Or Lakes, Cape Breton, and to the St. John River for lovely, extended summer vacations. She behaved well in three metre waves when the forecast went awry one day on the Bay of Fundy. The hull cruises efficiently at seven to nine miles per hour, coming up on plane as one approaches 30 mph. Trim tabs were added to attain good hull efficiencies over a wider range of speeds and loads.
As equipped, two people can provision the boat for eight days and nights on the water. A Zodiac in tow enables us to fish and go ashore to explore remote places, although the boat only draws 18 inches (45 cm) of water.
By keeping track of running hours and gas purchases over the last two seasons, I calculate that the Kingfisher consumed an average 6.4 litres per hour at all speeds. Most time was spent cruising.
The difference between this kind of boat and older inboard motor boats became obvious at a party one night on the dock at the Gagetown Marina. The Kingfisher had just returned from Saint John. Another couple made the same trip that day in an older, inboard boat that they had just purchased. Our gas bill for that trip was about $50. Sorely surprised, they volunteered that their gas for the same trip had cost them over $500. If a newer, more efficient motor technology emerges, it can be easily bolted onto the Kingfisher's bracket.
The Seabreeze-type and size of boat is an affordable and ecologically sensible approach to living and traveling on the water. The trailering aspect allows me to take the Kingfisher out of the water easily and quickly when hurricane force winds threaten watercraft. And its top speed of 40+ mph, if needed, gets me back to the dock on time!