Find most anything you could want to buy at family-owned Moffett's Hardware—a fixture in Sussex, NB, since 1922—now even the store itself.
If you make it to the moose, you're doing better than most customers. If you make it to the back of the store without an offer of help, you must be stealthy. Either that, or a new employee has slipped up on the job.
It doesn't happen often. Employees of Moffett's Hardware store in Sussex, NB, tend to stay on for decades, and regular customers appreciate having someone find what they need for them. Most customers crossing the threshold for the first time are pretty easy to catch—they tend to stop short, sporting a deer-in-the-headlights look. It's the wonderment of it all. From the embossed tin ceiling to the slender wooden floorboards, every square inch of space is packed solid.
Moffett's Hardware has been part of the beloved, memory-rich Broad Street block of historic Sussex for 91 years. Ownership has been generational, and so are the customers. Many shop here because their grandparents did.
Situated across from the old railway station, Moffett's has survived fires, recession, inflation and the advent of HST. Although it has doubled in retail space since it was opened by Sterling Moffett on May 15, 1922, the old-fashioned patina and knowledgeable service remains the same.
Third-generation owner, Don Moffett, and his wife, Brenda, sit knee to knee with me in their small cluttered office at the back of the store, talking about how it has been such a large part of their lives. Don is a tall man, quiet and easygoing, with a sort of Bob Newhart style of dry humour. Brenda, who recently retired as the bookkeeper, is warm and chatty…a WYSIWYG kind of gal. What you see is what you get. It is easy to understand why this place hums.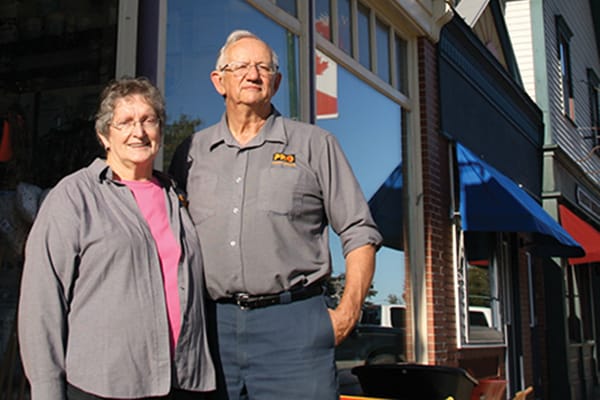 Take time to browse and you'll find everything from Aladdin lamps to cast-iron griddles, hay forks to string mops, rat poison to wood stoves. Need a length of chain? No problem. Buck urine? Over there. Have sore joints? You can find relief for that. Visitors of a certain age say it reminds them of the hardware stores of their youth; they walk around touching products or smiling at the various pieces of memorabilia... antique hockey gear, linseed oil cans, kerosene lanterns and ammunition posters.
Beyond retail, the store appears to be a repository of taxidermy that no one wants. A friend donated the massive moose head hanging mid-store, ironically flaunting a hunting cap. "Apparently his wife doesn't want it in the living room," Don deadpans. Another friend contributed the buck keeping vigil over the hunting gear.
A dusty deer head gazes glassy-eyed out the front window beside a pair of pheasants and a raccoon straddling a branch. Don's grandfather bought that deer second-hand when he opened the store, Brenda mutters, so goodness knows how old the thing is.
The variety, density and quality of product on the shelves is a matter of pride for Don. "The main thing is to give people exactly what they want, in a friendly manner, at a fair price," he says.
"We'll breakup boxes of nails, screws, ammunition. Dad and Grampie led by example. I try to carry on the business the way they did."
Everything is individually priced. If the power goes off, Moffett's is still open for business.
"When I first started working here," says Brenda, "they had a nail on a board for filing invoices. Now we have filing cabinets."  
Although a computer was purchased in 1996 to record inventory, and another in 2003 for Internet access, Brenda notes that Don's brain is still the most reliable source of information in the store.
He keeps meticulous sales notes in a hard-covered journal. He admits that he often forgets to check his e-mail. Not surprisingly, Moffett's does not have a Facebook site.
"Trying to keep things simple?" I ask. Don lifts an eyebrow. "Why wouldn't I?"
Rolls of cabling beside the front door can be stretched the length of the main aisle for cutting. Painted numbers on the floor, scuffed faint from wear, provide the measurement.
Homemade signs sing the attributes of certain products or announce specials. Pegboards swing open to reveal more shelves of hidden products.
Don leads me downstairs to the rock-walled storage basement that his grandfather dug out with a horse-drawn scoop. If the upstairs floor gave way, it wouldn't fall far. There are almost as many shelves down there.
"When old Mr. Moffett was here," says Brenda, "they said he had a magic basement. If there was something you couldn't find in the store, he'd find it in the basement."
These days, if you can't find what you need on a Moffett's shelf, Don can source it within a couple days. This is the advantage of being small and personal, he says. "The big box stores would take two weeks to order something in."

Savvy shopkeeper
Sterling Moffett chose entrepreneurship after being fired and rehired three times by an obstinate employer. "He was a sales clerk who had his own ideas," says Brenda, with raised brow and a you-know-what-I-mean kind of nod.
He was a savvy shopkeeper, big on salesmanship. His motto was "My prices are right." Shortly after he started his business, electricity and plumbing came to the Sussex area and he was well positioned to supply these needs. Locals called him Slick, but Don recalls that he often extended loans when credit was needed. He didn't have many outside interests; his life was his store, where he enjoyed both the work and the people.
Both of Sterling's sons, Don and Dave, enlisted in the war. Only the younger—Dave—came home.
"This made a big impact on my dad's life," says Don, who was named after his uncle. "He was always keen on the Legion and serving his community. After the war, he took courses on business and accounting, then came back to work full-time with Grampie."
Each had their strengths: while Sterling was all about making the sale, Dave leaned toward good service, high quality and fair pricing. Dave's wife, Anne, kept the books.
Although Don grew up with the business, he didn't want to make it a career. He enrolled in science at the University of New Brunswick, but finished with a business degree.
He met Brenda at a Fredericton coffee house. Don had written one of his Moffett-isms on a blackboard. 'You learn something new every day, unless you are very careful.'  Brenda marched up and chalked in:  'I'm a very careful person.'
Brenda winks. "Sounds like a good one liner, huh?"
Don, always appreciative of a snappy comeback, introduced himself. Later, he offered to drive her home. She accepted.
It was a short drive. She lived next door.
"He asked my mother for my hand in marriage and she said 'Take her!'" says Brenda. "We were married June 26, 1971. Our wedding was the first time ever that the store closed for a full workday."
In 1973, Don decided to join his dad and grandfather in the business. And so the beat went on for another 40 years.
But no song lasts forever. Sterling retired in the mid-80s and Dave in 1990. Both have since passed away. Neither of Don and Brenda's daughters wants to take over the business, so they have come to terms with letting go. Moffett's is for sale. They hope to find someone who will carry on as they have.
For now, Don has cut back to a four day workweek and is enjoying the additional freedom. His only regret, he says, would be all the missed Saturdays in his life.
"The store was a common thread in our lives, but not the most important thing," says Don. "It was not something to get rich at, but it gave us a good way of life."
And perhaps that is what family business is all about.