Winter comes whether we want it to or not. Instead of bracing for it… let's embrace it
Like it or lump it, winter comes around every year. Some of us grumble while scraping the windshield or digging the snow out of our boots before it melts. Others head south to hide. And then there are those who embrace every minute of the ice, cold, snow and even the dark. You'll find them clearing snow from a patch on a frozen pond, snowshoeing under a full moon or making a rink in the back yard. They wax their skis, tune up their snowmobiles and even exercise their sled dogs well before the snow begins to fly, all in anticipation of their favourite season in Atlantic Canada.
When most of us think about outdoor winter fun, we think of the big name ski resorts in our provinces like Marble Mountain in Newfoundland or Sugarloaf in New Brunswick or Wentworth in Nova Scotia, all of which are fantastic places to find all you need to enjoy the snow. But we sought out the unusual, the surprising, the inspiring, the off-the-beaten-path locations and activities across the region to entice folks of every age and ability to get out there and embrace the elements.
Snowmobiling:
"Oh, what fun it is to ride!" says the PEI Snowmobiling Association, and on the Island, you can ride many hundreds of kilometres to explore pretty well every corner of Canada's smallest province.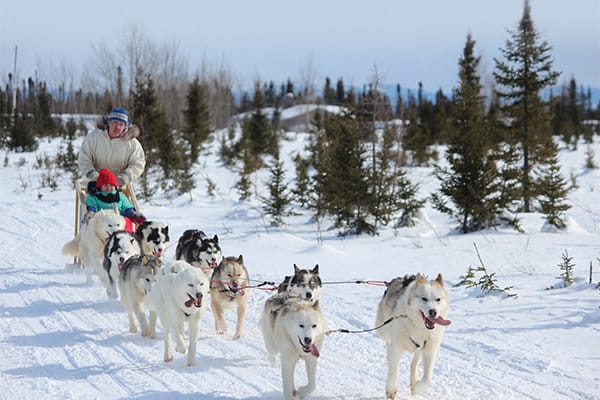 The definition of a social network in St. Anthony, NL? The many cabins along well travelled winter trails. Snowmobiling in St. Anthony is just how people get around in winter, so expect hundreds of kilometres of trails and lots of Newfoundland hospitality around the wood stove, where there's always a boil-up to warm the stomach and the heart. Find out more about the Newfoundland & Labrador Snowmobile Association.
Test your mettle on the Great Northern Odyssey, over 1,500 kilometres of groomed trail that loops through four northern New Brunswick cities, with lots of clubs and services along the way.
Just a taste of the Rum Runners Trail from UNESCO World Heritage Site Lunenburg to Halifax and you'll want more. The 110-kilometre trail on a former rail bed offers many entry points in places like Mahone Bay, Chester, Hubbards and even urban Halifax.
Dog sledding:
Imagine being pulled along by a team of eight sled dogs with names like Frost, Ice and Thunder, all eager for the run, as if you were on a Yukon adventure rather than a few kilometres from Truro, NS where Snowpak Kennels in Riversdale provide guided sled dog trail rides.
Take a cultural trip back in time with Northern Lights Dog Sledding of Happy Valley-Goose Bay, Labrador. Learn to harness, drive and care for the team, and, of course, marvel in the beauty of the big land from the runners of the sled.
Find out what it's like to mush a team of huskies right in downtown Fredericton on the horse racetrack at the Fredericton Raceway and Exhibition during Winterfesthiver in early February. Trees are added to track for a more authentic feel. A couple of adults or as many as four kids can squeeze onto the sled.
Sleigh rides:
Bundle up and go for an old fashioned sleigh ride on winter weekend afternoons in Mill River Provincial Park in western PEI.
It's the luck of the (weather) draw at Ross Farm in Nova Scotia, but a trip around the farm in winter, by sleigh or wagon, cushioned by hay and warmed by hot chocolate, is mighty fine.
Cache Rapids Stable in Reidville, about 10 kilometres from Deer Lake, NL, gets you out for a scenic journey near the Humber River. While you're there, ask to see their cute Newfoundland ponies.
A relaxing sleigh ride might be just the thing after tube sliding or ice skating during Campbellton's annual Sno-Fest, this year from February 18 to 21.
Skiing
It's like skiing the top of the world when you head out from the Northern Victoria Community Centre on the 10 kilometres of groomed classic and skate North Highland Nordic Ski Trails in Cape North on the northeast corner of the Cabot Trail. Rent skis or snowshoes on site, join an instructional clinic.
You are on your own, and that's the way it should be in a national park. Three areas in Gros Morne in western Newfoundland provide challenging backcountry ski opportunities for both beginners and experts where there are no trails, not even any marked routes.
Ski the world's highest mountain this winter... or the equivalent. Crabbe Mountain in central New Brunswick is throwing out the Everest Challenge—ski all 34 runs on January 24 and you will have skied the vertical height of Mount Everest. There's a barbecue, hot chocolate and entertainment at the bar for a reward afterward.
Downhill skiing on flat PEI? Sure. There's lots of snowy fun to be had at Brookvale Winter Activity Park, with a chair lift to the nine alpine runs and 25 kilometres of groomed cross country trails.
Outdoor skating:
To see how winter used to be celebrated, head to the Old Fashioned Skating Party in Fredericton on January 23, where up to 400 people take to the ice at an outdoor rink created for the occasion beside Officers Square. A band plays from the patio and there's hot chocolate. Stacey Russell of Tourism Fredericton, who helps organize the event as part of their big winter carnival called Frostival, says, "It gets everyone together. It's the unofficial kickoff."
Most people know about the awesome outdoor skating oval on the Halifax Common, and hockey matches break out on hundreds of ponds and lakes around Nova Scotia, but did you know that just a kilometre from Ski Wentworth, you can strap on your skates at the Wentworth Valley Inn's outdoor skating pond? Talk about a complete winter experience.
The folks of Deer Lake, NL take great pride in the glassy ice surface of the outdoor rink they create every year for their Winterfest celebrations in early- to mid-February. While you're there, enter the snow sculpture contest.
In western PEI, outdoor skating goes upscale on the outdoor rink next to Mill River Resort where there's night time skating until 9pm. After skating outside, it's time to warm up indoors in the sauna or the saltwater pool.
Snowshoeing:
It's all about a peaceful experience in the forest when you book a cabin like the two-storey Tamarack that sleeps five at Windhorse Farm in New Germany, NS and take their snowshoes out to explore. Contact them about special events like a moonlit snowshoe walk with a bonfire and refreshments at the end.
The kids will beg to get outdoors on snowshoes to search for clues along the trail to a battleship board using a UV (black light) flashlight during the Snowshoe Battleship Scavenger Hunt at NB's Mactaquac Provincial Park on January 22 and 23.
Rent snowshoes of all sizes and head for the backcountry trails at Brookvale Winter Activity Park in PEI to experience the beauty of the Island in winter.
The three-kilometre Snowshoe Adventure Trail links to the Nordic Ski Trails so you can explore the surrounding wilderness two different ways at White Hills, a ski hill and resort in Clarenville, NL.
Fur and feathers:
Never heard of the "Brant Fly Away?" It's a can't-miss feathered phenomenon in late February and March on Cape Sable Island when tens of thousands of Brant geese gather to feed. When they lift at dusk, it's a sight you'll never forget. More information at Nova Scotia Bird Society.
Another Nova Scotia winter wildlife experience awaits at Shubenacadie Provincial Wildlife Park where on weekends you can visit hearty Atlantic Canadian species like moose, mink, river otter, bobcat and even the Sable Island horse.
Bird lovers on PEI cheer up winter days by organizing bird feeder tours. Find the "Birding on PEI" Facebook page and click on events to find out when they happen this year.
Siberian tigers and snow leopards prowl the Cherry Brook Zoo in Saint John year round. See what these majestic creatures get up to in winter.
Winter carnivals:
Dozens of communities across the Atlantic Provinces get their groove on in winter with carnivals that celebrate the season and get people moving. Here are just a few:
The Bayside Blizzard Winter Carnival of Botwood, in central Newfoundland, seems aptly named. Breakfast and dinners warm carnival-goers, as do dances for pre-teens, teens and adults. Play cards, pool, bingo and darts, no matter what the weather. Outside, the snow sculpture contest and snowmobiling keep the blood moving.
The people of beautiful Bear River, NS get outside to ski, skate, slide and snowshoe at their annual winter carnival in mid February. Inside, there's lots of food and hot drinks, live music and a cookie decorating station for kids.
Stratford, PEI holds its own winter carnival where indoor sports and games like crokinole, Scrabble and badminton keep kids and adults active. Sleigh rides and a petting zoo get people outside in late February.
Fredericton wins hands down for the biggest winter carnival in Atlantic Canada for its four-week collection of more than 100 events. This year, there are plans in the works for a special event, the March of the 104th race, that encourages participants to snowshoe, build fires and make snow houses so they can feel what it was like to be one of the soldiers who marched from Fredericton to Upper Canada during the War of 1812.
Winter gold, eh?
The World Pond Hockey Championship in Plaster Rock
Picture this: It is a mid-February morning and 15 below in most parts of New Brunswick. As a blizzard blows through Atlantic Canada, forecasters predict dangerously high winds and up to 50-80 millimetres of snow. But never mind, it's the final day of the World Pond Hockey Championship in Plaster Rock, and a mere blizzard is not going to stop the action. As snow zooms sideways, visitors, family and friends cheer for the players as they face off on Roulston Lake.
Famed ex-NHL player Bobby Hull was on hand in 2009, and referred to this event as the eighth wonder of the world. Coming into its 15th anniversary season, the championships draws more than 5,000 to the area.
Danny Braun, president and CEO of the championships, has been involved from the get-go. It all started when Braun chaired a volunteer committee which was looking for ways and means to raise funds to replace the old and dilapidated rink. Knowing that a small community with a population of 1,135 people wouldn't get far doing raffles and bake sales, the committee aimed for something big. Why not set up a pond hockey tournament and invite the world?
From its humble beginnings in 2002, the championship now features 120 men's teams and a 12-team ladies' division. The only teams guaranteed re-entry each year are the previous year's winners, but they get applications from all over the world. This year, they have all provinces and the Yukon represented from Canada, plus 23 American states, and teams from Switzerland, England and Cayman Islands.
"With the funds," says Braun, "we were lucky enough to open the Tobique-Plex in 2007. But it's more than just a rink. It's also home to a walking track, a fitness centre and municipal offices." The monies raised from the tournament since then go towards operations.
The model has been copied in other places, which started happening three years after the WPHC began. "In a sense, that's the greatest form of flattery. There have been over 30 similar events in Canada, some in the US, and even some in Europe. But we were the first of its kind."
Spectators range from toddlers to seniors. There's a section where anyone can don their skates and take a spin. There's a huge closed-in area with heaters and picnic tables. Vendors sell everything from beer to hot chocolate, burgers and pizzas.
The night has its own magic: the lane leading down to Roulston Lake lights up, people huddle around big campfires and laughter floats in the air from tail-gate parties and campers.
Tony Gray, a branch manager for a mortgage company in Bethesda, MD, is gearing up for his 13th trip to Plaster Rock. He captains a team called the YANKS. "This stands for 'Your Average No-Talent Knuckleheads from the South,'" he quips.
Gray first heard of the pond hockey championship from a story in The Wall Street Journal, written by Bryan Gruley, with the opening line, "Life is good when you can skate into the beer tent."
Gray adds, "When we heard that people actually played outside and we could go back to our roots playing pond hockey, we had to go."
Postscript: Gray's team made it to the finals last February. Alas, they lost the first round Sunday morning. Although they would have enjoyed hanging out to the bitter end, the team decided to brave the blizzard and beat it down to Portland in hopes of getting a 9pm flight back home. After a challenging seven-hour drive, they rolled into the airport in time to board the only scheduled flight that left that night. Gray says, "But the drive was worth it. People are just great in Plaster Rock. Can't wait to be back!"
For more information on the 2016 Word Hockey Pond Hockey Championship, February 25-28 (and places to stay in the region) visit worldpondhockey.ca.