Celebrating its 20th anniversary, this festival offers the best of both worlds: Stunning fall scenery outside and top entertainment inside
In mid-October of 2010, I attended a Celtic Colours concert in the gym of the North Highlands Elementary School, located on the shore of Aspy Bay, at the northern tip of Cape Breton Island. Tim Edey and Brendan Power, of whom I had never heard, were part of that musical evening.
Also on stage that stormy night were the lively Acadian group Vishten, from Prince Edward Island and the Magdalen Islands, and Dwayne Côté (violin) and Hilda Chiasson (keyboards), from rural Cape Breton.
They were the real reason I came to this remote venue in one of the most isolated spots in all of Nova Scotia—but who were Tim Edey and Brendan Power?
Well, I soon found out they were both well known traditional musicians, with international experience on the Celtic music scene, and were making their first visit to this part of North America.
Tim, who plays both button-accordion and acoustic guitar, is from England. Although a self-taught virtuoso, he has toured with several well-known Celtic groups like Capercaillie, Altan and the Sharon Shannon Band. Brendan, from New Zealand, is considered an expert on Irish traditional music. To his peers he is a wizard on the harmonica. He has released more than 21 solo CDs, and toured as soloist with the acclaimed Irish-based Riverdance show, among others.
At the end of the concert all these wonderful musicians appeared on stage for the grand finale. Needless to say, there was an enthusiastic standing ovation, especially after almost three hours of exciting music. It may have been a nasty night, with high winds and a driving rain, but for those inside that charming little school, it was a musical night to remember.
As Celtic Colours festival director Joella Foulds would later say: "Tim Edey and Brendan Power were the buzz of Celtic Colours 2010. Their sheer virtuosity and the genuine joy with which they deliver their music took audiences by surprise, and invariably resulted in standing ovations."
Tim and Brendan, along with Vishten, Dwayne Côté, and Hilda Chiasson, were the latest in a long line of exceptionally talented musicians who, over the last 20 years, have made the Celtic Colours International Festival one of the top three or four such events in the world.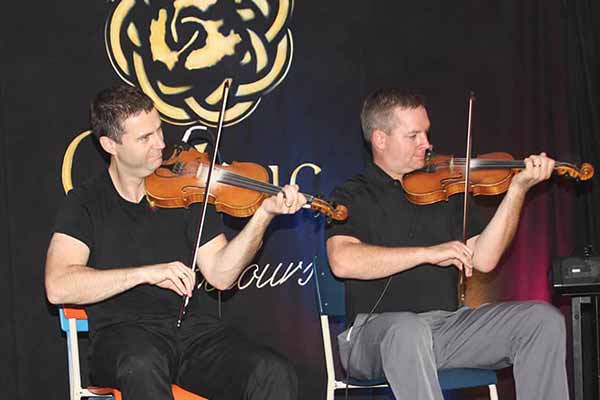 That standard of musical excellence, which features both local and international performers, was set at the opening concert in Sydney, back in 1997. That evening featured two of Cape Breton's signature talents, Gaelic singer Mary Jane Lamond and fiddler/step dancer Natalie MacMaster. The Sharon Shannon Band from Ireland, and that nation's cultural ambassadors, the Chieftains, added an international flavour. The die was cast, and the festival has never looked back.
It was only a short drive from the school to my motel in Bay St. Lawrence, which was just as well, as I was fatigued after my six-hour drive earlier that day. I spent the previous night at the southern end of Cape Breton Island, in the charming Acadian village of Arichat on Isle Madame. It was all part of a planned musical odyssey, to take in concerts in smaller, more remote communities across Cape Breton.
In three days I traveled more than 650 kilometres on a journey from North Sydney to Isle Madame, on the Strait of Canso, and to Aspy Bay and Bay St. Lawrence, on the Gulf of St. Lawrence. In doing so, I passed through all four Cape Breton counties: Richmond, Inverness, Victoria and Cape Breton, on relatively remote rural routes, the Trans-Canada Highway, and the Cabot Trail. I was privileged to do all of this driving at the very height of our fabulous fall foliage display.
The first concert in my three-day Celtic Colours odyssey took place in a community hall in Lower River Inhabitants, a place that most would have trouble finding on a map. Located in Richmond County, between St. Peter's and Port Hawkesbury, it was first settled by Irish immigrants, who mixed freely with the French-Acadian population on the nearby coast.
I had arrived early that evening at the Riverdale Community Centre, where I soon found myself listening to the sound of a solitary fiddle that seemed to come from the basement of the little hall. I made my way downstairs to a fairly large room being used as a "backstage" area for the visiting musicians.
A young woman was sitting on the floor, with her back up against the wall. Even though there were several empty chairs nearby, she seemed to be in her own little world, and was obviously quite comfortable just where she was.
Not wanting to disturb this gentle scene, I waited and listened, then slowly raised my camera and took a picture. Louise Hunter, a traditional musician from the Donegal region of Ireland, turned in my direction, smiled, and continued on with her music, a lilting Irish lullaby. This accidental encounter with Louise seemed rather appropriate, given the fact that the festival booklet's title for that particular evening was: "A Touch of the Irish!"
And so it was, especially when the Liz Doherty Connection took to the stage. Like Louise, Liz is also a Donegal fiddler, who made the first of many visits to our island in the mid-1990s, while researching Cape Breton style fiddle music for her PhD thesis at the University of Limerick.
Also part of this lovely Irish evening were Liam O'Connor on Irish pipes, County Kerry fiddler Máire O'Keeffe, Irish-American guitarist John Doyle, and Darrell Keigan, a local Cape Breton singer of Irish descent.
Off-the-beaten-path
These two rural concerts, at opposite ends of our little island, illustrate one remarkable feature of the Celtic Colours International Festival, a feature not found at any other large Celtic festival in the world. Unlike the Celtic Connections Festival in Glasgow, Scotland, or the Inter-Celtic Festival of Lorient, France, our festival is the only major musical event of its kind that is not held in one large urban area.
This year's gathering will feature 49 concerts and 280 community cultural events, in 62 locations all over the island. It will also include 53 delicious, home-cooked community meals that will be available in those rural areas that do not have ready access to restaurants, or take-out venues.
Over the last 10 years I have attended concerts in the more remote parts of Cape Breton. The shows in these small venues, are held in community halls or schools, and provide a much more intimate musical experience, than venues in larger towns. On more than one occasion off-island visitors have told me that they really enjoy this unique aspect of our autumn festival, especially because they are forced to head out and explore our scenic back roads.
Celtic Legends
That's not to say that the festival does not make use of larger venues. Last year's opening concert at the Port Hawkesbury Civic Centre attracted more than 1,000 people. Simply titled "Sensational Sisters," it was a celebration of female musicians, including Canadian singer and harpist Loreena McKennitt, Antigonish county dancer Sabra MacGillivray, fiddlers Lucy MacNeil and Liz Doherty, and the six dynamic fiddlers of the String Sisters, who hail from Ireland, Shetland, Norway, Sweden, and the United States.
Nine music-filled nights later at the closing show at Sydney's Centre 200, "Ricky's Rattlin' Roarin' Roots" kept an audience of more than 3,500 enthralled as country and bluegrass legend Ricky Skaggs explained that American bluegrass music has a strong affinity with traditional music of Ireland and Scotland.
Backed by his band, Kentucky Thunder, he shared the evening with Canadian singer-songwriter and multi-instrumentalist J. P. Cormier, and Cape Breton's own Barra MacNeils, the five members of which form one of the most successful musical acts in the Celtic world. This year the "Barras" celebrate 30 years as an international touring ensemble.
Anniversary Year
In anticipation of the 20th anniversary of the Celtic Colours International Festival, I spoke with executive director Joella Foulds and communications officer Dave Mahalik, about the last two decades and what's in store for the future.
"Celtic Colours is a cultural festival that happens to attract tourists," says Joella. "While we are not actively trying to grow the festival, various communities would still like to be part of the activities, so we look at what these communities want, and what our audiences would like to see and hear."
There are two shows at Fortress Louisbourg: a main show in the fortress chapel, and a second show at various locations around the fortress town, with the audience broken into small groups for square dancing, story telling and such.
Dave Mahalik says, "On average we will have 80 to 120 accredited media each year. Our musical standards remain very high... frequently artists will change their schedule, or even drop other festivals, in order to be part of Celtic Colours."
I sit down with well-known musician Rodney MacDonald, who has been involved with the festival since its first year. A former premier of Nova Scotia and CEO of Colaisde na Gaidhlig (the Gaelic College in Englishtown), he has musical roots in Inverness County that date back four generations.
"I was 12 years old when I first started playing the fiddle, although I had been step dancing since I was a young child. My first Celtic Colours concert was in the Mabou Hall, when I was 25.
"I am also a big fan of the after-hours festival club held each evening at the Gaelic College. It usually attracts between 200 and 300 patrons, and is a great ceilidh (party), that often goes on into the early morning hours."
Then, after reflecting for a moment, he continues: "One of my great festival memories happened a few years ago, at the Red Shoe Pub in Mabou. Local fiddler Dawn Beaton played many old style Cape Breton tunes. It was a small, intimate setting, with tourists there from all over the world. It was a true Celtic Colours moment!"
Celtic Colurs International Festival – Fast Facts
Festival started in 1997 by Joella Foulds and Max MacDonald.
Around 2,000 volunteers this year, including site managers, lighting and stage technicians, local kitchen staff, etc. This total also includes 50 drivers, who pick up artists at the airport in Sydney or Halifax, and remain with them during their stay on Cape Breton.
405 artists from Ireland, Isle of Man, Wales, Japan, Russia, Scotland, Spain, United Kingdom, United States, and across Canada (British Columbia, New Brunswick, Newfoundland and Labrador, Nova Scotia, Ontario, Prince Edward Island and Quebec) join Cape Breton artists performing in 2016.
| Statistics | 1997 | 2015 |
| --- | --- | --- |
| Concerts | 26 | 47 |
| Artists | 300+ | 405 |
| Workshops | 22 | 268 |
| Communities | 18 | 33 |
| Tickets Sold | 11,700 | 20,568 |
| Off-island Visitors | 3,500-4,000 | 7,521 |
| Economic Impact (est.) | $3.5 million | $11.5 million |
Last year, off-island visitors came from all 50 US states, as well as every Canadian province and territory, and 31 other nations. ~RG