Ice cream, they say, is ancient history. Literally. Some historians date it as far back as the 4th century BC. To make a long story short, let's just say that fortunately for us, what might have started out as a cloned snow cone (or something like it) has metamorphosed through millennia into the creamy frozen delight that has been "everyone's" favourite dessert since the turn of the 20th century.
What baby boomer (or their parent) doesn't have fond memories of an old-fashioned ice cream parlour or soda fountain where they sipped sodas through a straw-or more romantically, one of two straws, sitting across from a true love? Details may have faded, but memories of rich ice cream flavours linger.

For example, between the late 1920s and early 1960s, those who wanted a good sundae or ice cream soda in Pictou, NS, went to Eddie's on Water Street, conveniently located across from the theatre. The soda fountain was so busy it had to be shut down periodically (for an hour or so) while the ice cream and toppings were replenished. The proprietor, Eddie MacDonald, immaculately attired in his snowy white jacket, ran a tidy shop. He also had certain expectations when it came to his clientele-if a crowd of students became too noisy, it took only one look from him and everyone settled down.

Eddie's daughter Claire Nicholson, now living in Halifax, vaguely remembers the black wire ice cream tables and chairs being replaced by booths to accommodate more customers. The surplus swirled on stools at the soda fountain.

Those were the days when you could have a strawberry, butterscotch or chocolate sundae for 15 cents. For another dime, you could swing a triple-scoop banana split.

Pictonians will be the first to tell you that the ice cream served at Eddie's was the best. Made at the Pictou County Dairy, it became famous as Picoda ice cream. The dairy was eventually purchased by the huge Scotsburn enterprise which, after acquiring several other dairies in the area (including the Brookfield Creamery), continues to make good ice cream in Truro, NS, and St. John's, NL, all sold under the Scotsburn label.

At the other end of Nova Scotia, in Lunenburg, Fulton's Drug Store was a popular ice cream stop. Its central location on Lincoln Street made it a convenient place for children, teens and adults to stop by for milkshakes, ginger ale floats, sundaes and sodas. Customers sat at classic ice cream tables or at the counter, which could seat 10 people on stools. Joyce (Fulton) Creaser, who was a pharmacist in the store owned by her father, remembers the chocolate syrup they made to top the banana splits. Open all day and all evening, the art deco-style establishment was always busy.

In Moncton, NB, Heys Soda Bar was the popular gathering spot for youth during the 1940s and 1950s. After the ice cream and TLC provided by owner Rollie Heys, the centre of attraction was a nickelodeon (called jukeboxes now), which spewed forth all the popular songs of the day for just a nickel each.

Memories also exist of thick chocolate milkshakes (complete with the metal container holding a generous second portion) served at a long counter with stools at Staples Drug Store on the corner of Queen and York in Fredericton.

In Grand Falls, NL, there was The Cabot House on Cabot Road, where, for more than 60 years, teenagers constantly filled six booths, eating ice cream or sipping shakes, sodas and floats after a movie. On Sunday afternoons whole families headed to The Log Cabin Field to buy ice cream in cones or bricks, or enjoy a generous shake.

To bring our tour of ice cream premises up to date, we visit Prince Edward Island and two commercial manufacturers that use premium ingredients to make their old-fashioned ice cream. At PEI Preserves in New Glasgow you can go to a take-out window during the summer, pick up a sundae covered with a fresh fruit topping, and take it to a table on the deck to enjoy. The ice cream, some say, is "just like Grandma used to make"-flavoured with preserves made on site, the most popular being Strawberry and Grand Marnier, with Peaches and Cream coming in a close second. Mmmm.

And then there's Cows, which now has 11 locations (some seasonal) in Canada and one in the US. There are seven stores in PEI alone. Its premium ice cream is still made from an old family recipe and is served in popular waffle cones (or bowls). The first location opened in Cavendish in 1983. Wowie Cowie (made with premium vanilla ice cream, English toffee, chocolate pieces and chunks of Moo Crunch bars) was its most popular flavour back then-and it still is today. Last year Readers Digest proclaimed Cows "the best ice cream in Canada."

We've come a long way from the 4th century BC.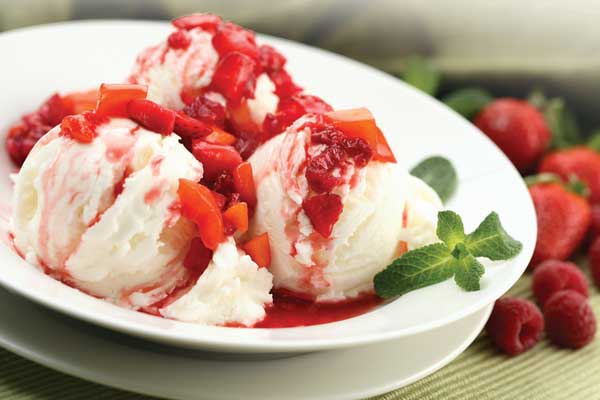 Quick Toppings
Strawberry Sauce
Mash 1 cup (250 mL) strawberries, add 1/4 cup (50 mL) granulated sugar and let stand 30 minutes. Slice another cup (250 mL) of strawberries and add to sauce just before serving. Makes 2 cups (500 mL). Variation: Stir in 1 tablespoon (15 mL) balsamic vinegar.

Pineapple Ginger Sauce
Combine 2 cups (500 mL) undrained, crushed pineapple with 2 teaspoons (10 mL) grated ginger root and 2 teaspoons (10 mL) liquid honey. Stir well. Makes 2 cups (500 mL).

Comfort Sauce
In a microwave-safe bowl, combine several dollops of chocolate syrup and a heaping spoonful of peanut butter. Microwave on high for 25 seconds or until hot. Beat well and pour over ice cream.

Pears and Cinnamon
Cover sliced pears and vanilla ice cream with chocolate sauce or syrup. Sprinkle with ground cinnamon.
Recipes featured in this article: