Looking like something from out of a 50s spy movie, the NORAD station in northern Labrador protects home and hearth... tracking a certain sleigh as well.
The North Warning System long-range radar installation at Cape Saglek, Labrador, could easily be portrayed as the Soviet Union Cold War setting for a James Bond flick. The barren, rocky terrain and typically stark military facilities are perfect for one of those opening sequences where 007 whisks ashore in a high-speed Zodiac, scales a sheer cliff, knocks off the sentries with silent blows, penetrates a concrete wall with the latest explosive gadgetry and, once inside, darts stealthily along halogen-lit steel catwalks.
Inside the facility, however, there's evidence this is modern North America; some of the currently stationed 19 personnel are playing pool while others relax on sofas watching The View on wide-screen satellite television. But don't be mislead by the leisure: in various forms and under various names, Saglek has served as the first line of defense against air attack 24 hours a day, 365 days a year since its inception.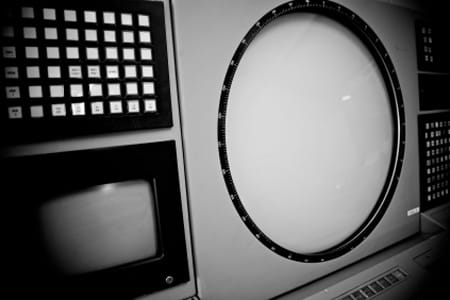 It was fear of nuclear attack from the USSR that led to the original radar installation at Cape Saglek. In the 1950s, the Canadian and US militaries deemed the Saglek location was of strategic importance, building facilities as part of the sweeping northern surveillance system known as the Pinetree Line, under the control of the North American Aerospace Defense Command (NORAD).
The Pinetree Line comprised a total of 44 short- and long-range early warning radar sites that operated from Holberg, BC, to St. John's, NL, between 1953 and 1970; the Saglek station was manned by US Air Force personnel of 924th Aircraft Control and Warning Squadron. The military posting was recorded on some websites as being a full 12 months, a daunting thought for anyone who has set foot on the stark, barren cape.
The site is remote, forbidding and secure. Unlike Bond, you don't just make your way into an early warning system radar station. You ride to the top of the towering cape in a late- model half-ton truck manned by one of the Canadian or US nationals who currently maintain and operate Saglek's modern technologies. The drive is a circuitously deceptive 13-kilometre climb up roughly graded road from sea level, where aircraft land and vessels come ashore. Everywhere, there is Canada's crazy northern weather. There's also the realization that Cape Saglek is 90 minutes by twin-engine Otter to the nearest civilization, the most northerly community of Nain, last in the string of five Inuit communities that on Google Earth look like stepping stones into the sub-Arctic region now known as Nunatsiavut.
The original Saglek operation was shut down and the buildings eventually destroyed, the methods becoming a matter of considerable environmental concern-it's clear to scientists still studying the presence of polychlorinated biphenyls (PCBs) in seabirds that the environment was not top-of-mind. In 2002 the Quebec City-based environmental firm Biogenie was awarded a federal contract to carry out a $29.3-million remediation project at the former radar station site, involving treating contaminated soil and debris.
Today's NORAD is an organization you typically hear of just once a year, as it tracks Santa's sleigh on Christmas Eve. However, recent headlines about Russia's newly pronounced military aggression, including production and testing of what has been described as the father of all bombs, makes it clear that the site is still relevant to the original mandate.
The modern North Warning System (NWS) was initiated by Prime Minister Mulroney and President Reagan signing the North American Air Defense Modernization agreement at the 1985 Shamrock Summit, in Quebec City. The current system continues to provide surveillance of potential attack routes via Arctic airspace, consisting of 15 long-range radars, and 39 short-range radars along the northern edge of North America. In NORAD lingo, the string of radars form a 4,800-kilometre-long and 320 kilometre-wide "tripwire" stretching from Alaska to Newfoundland. Canadian radar on both the Atlantic and Pacific coasts complete the Canadian portion of the electronic fence that surrounds North America.
Immediately following the terrorist attacks of 9/11, NORAD went into heightened state of alert in preparedness for further attacks. In a program named Operation Noble Eagle, Canadian CF-18 Hornet fighter aircraft are on continuous alert to respond to any potential aerial threat originating within North American airspace as well as originating outside, conducting random air patrols across Canada. In co-operation with Customs Canada, the RCMP and US drug law enforcement agencies, the North Warning System also assists in detecting and monitoring aircraft suspected of illegal drug trafficking.
The small airstrip near sea level at the base of Cape Saglek is no Stanfield International, meaning that visual flight rules apply and when the weather acts up, even the most daring charter pilots pass over and return to Nain, or their base in distant Goose Bay to the south. Nav Canada pilot advisories state that while the area is exciting and scenic to fly over-with the breathtaking fjords of the nearby Torngat Mountains National Park Preserve, this is an understatement-it's also "dangerous and unforgiving," with winds gusting, funneling, channeling and cornering.
To the side of the short Saglek airstrip, there's an ever-present reminder of just how perilous this land can be. It's the wreckage of a US Air Force twin-engine Martin B-26 Marauder medium bomber that once bore the markings Times A Wastin. Apart from the caribou that regularly traipse the airstrip, the plane is the first thing you see upon landing. The craft crashed en route from Greenland to the US in December 1942, when the weather turned sour.
The crew of seven, members of 440 Squadron, 319 Bomb Group, survived the crash by keeping warm and sharing rations, including Spam, peanuts, canned chicken, salmon, pineapple, fruit cocktail, boxes of Hershey Bars, a case of Coca Cola, coffee and packages of caramels. However the men eventually perished in the elements-needlessly given there were Inuit residing at Hebron a mere three and a half hours walk away. Their experience was recorded for weeks by the pilot, Lt. G.C. Hodge, resulting in an account eventually published as The Diary of One Now Dead. The final entry in Lt. Hodge's diary was made on February 3, 1943: "Slept a solid week... Today Weyrauch died after being mentally ill for several days. We are all pretty weak, but should be able to last several more days at least." The crew members were found in April by Inuit from Hebron.
Adventurers or those assigned to travel to Saglek, by land, sea or by air, tend to share optimism like that expressed through Lt. Hodge's writing. But the land and its indigenous people-the Inuit-know full well that nature and the spirits have a say in all human outcomes.