Icebergs, moose, whales, wild salmon and more…
We innocently asked our waitress at the Tuckamore Lodge in Main Brook, Newfoundland, where we might get some good photos of moose after dinner. "Well you won't need to go too far. I would simply head back on the road you just came in on and drive a few kilometres back toward Roddickton."
We knew that moose are best seen around dawn and dusk and we hadn't driven more than a kilometre when we saw the first, grazing along the edge of the road, as relaxed as a cow in a hayfield. The huge animal casually looked up and, even as we closed the car doors and edged closer, appeared unconcerned.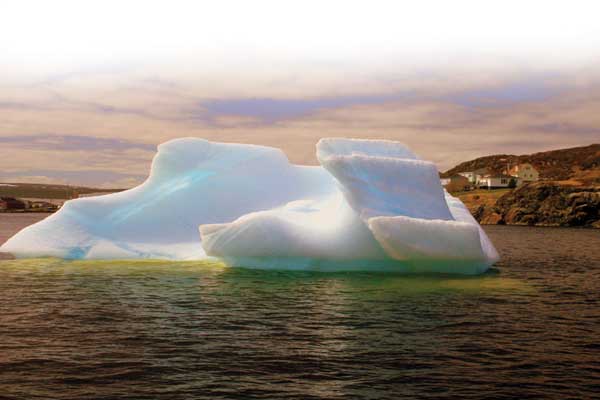 After snapping many pictures and some video, we noticed two more moose had come out of the woods to graze on the green shoots growing profusely in the low ditch. Then another pair materialized and ambled across the road 100 metres ahead. We had come to see icebergs and whales, but the moose were providing the first great memories of this trip. By evening's end we had spotted 15 moose within a five-kilometre drive!
It was June 11, 2009 and we were on our way to the new 10-day Iceberg Festival. We had left Corner Brook in sunshine and followed the Viking Trail (highway 430) north to Main Brook on the Newfoundland's Great Northern Peninsula.
In recent years we have seen icebergs in many places and have even paddled around them in our sea kayaks on several occasions-but icebergs are addictive. They come in magical shades of blue and white and often appear as if sculpted by artists. So we were coming for our annual fix.
The next day we phoned Paul Alcock, owner of the Northland Discovery Boat tours in St. Anthony, to find out how many icebergs and whales he had been seeing.
"There are good icebergs all around and we have been seeing lots of humpbacks, but the weather today is not fit. But I can rebook you for the sailing tomorrow morning instead since the weather is supposed to improve considerably".
So plan B was to become reacquainted with Sir Wilfred Grenfell's life, which is superbly displayed in the Grenfell Museum and the Grenfell house. Grenfell still stands as the province's best known medical missionary and his impact on health care and overall well being of the citizens of this part of Newfoundland were immeasurable. We also visited the famous Viking settlement site at L'Anse aux Meadows. That evening we had a superb dinner with music and a play at the award winning Norseman Restaurant in L'Anse aux Meadows (be sure to sample their iceberg martini!), and spent the night at the nearby Valhalla Lodge.
The following morning, as we made our way out of St. Anthony on the boat tour, we already were into small icebergs. "We call those 'growlers' due to the noise they make in the waves," said Paul, "but we will see much better ones than those once we get out."
We had been steaming for about 10 minutes when Paul sighted the first blow. Since the icebergs he planned on visiting were grounded, he decided to go for the moving targets-the whales (consistently found in these biologically rich waters just off of St. Anthony harbour) and he got us close to five humpbacks on this trip. Then it was off to see the three icebergs which had grounded in shallower water several days earlier. "We're located in the best place for icebergs in the province since the Labrador current steers them right at us and we can frequently get bergs right up until early August," Paul grinned as he turned on the theme from the movie "Titanic" over the sound system.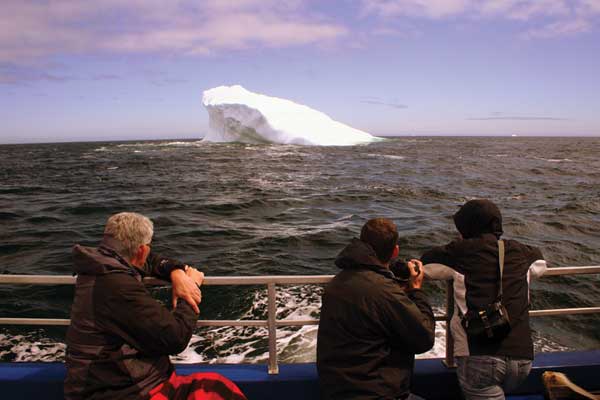 That evening we ate at the Lightkeepers Café & Seafood Restaurant, well known as a popular land-based location for seeing whales and icebergs. Then it was off to toe-tap to Newfoundland's best-known traditional musicians, Fergus O'Byrne and Jim Payne, just in from St. John's. That night we stayed at the newly constructed Grenfell Heritage Hotel & Suites, a fine addition to the area's upscale accommodations.
Our fourth day dawned sunny and warm and started with a superb interpretative walk with Parks Canada naturalist Michael Burzynski. He had chosen an unusual natural feature called the "underground salmon river", pointing out curious aspects of the plant life of the area-like how to identify basic tree species by tasting their needles: ("If it tastes like cat pee it's white spruce."). But our ultimate destination was where the Beaver Brook has cut a remarkable underground route and we could see the salmon getting ready to enter the dark cave waters-and then re-emerge at the cave exit several hundred metres upstream. Amazing!
Day five took us to the community of Conche where visitors could create their own iceberg tapestry using linen and wool. Inspiration is in the next room, which houses the 165-foot long tapestry several women have been working on since 2006. It depicts the history of this "French Shore". It will be more than 200 feet long when complete.
There was much we didn't have time to do-talks on the science of icebergs, guided walks, and workshops on how to play a traditional instrument like the tin whistle and knit "Viking style" with a single needle. We fully intend to take in the latter half of the festival this year.