When a foundation is properly tailored to a house and its surroundings, it can last forever.
It's one of the most significant investments we make in our life-our home. It's our retreat from the masses, our comfort zone and the place where memories are made.
All great ideas and major undertakings in life require a solid base. House construction is no exception. A home's foundation is its most crucial structural element and has to be done right. Not only does it support the house, but it also has to deal with environmental issues such as water, ice and insects. It also has to withstand extreme soil pressure.
The three basic foundation options available to homeowners are a full basement, a crawl space and a concrete slab. A full basement is an accessible space with headroom between the soil and the bottom of the first floor of a home. A crawl space is an accessible space, though limited, between the soil and the bottom of the first floor of a home. Concrete slab is a type of foundation with no accessible space between the ground and the foundation. The foundation homeowners and their contractor will choose depends on many factors.
First, the site. Is the ground composed mainly of sand, gravel, silt or clay? Soil composition is extremely important in determining a foundation's resting place. Soil conditions can affect drainage and house stability as well as determine the frost line. Sand and gravel are generally the best options. Some soils, like clay, heave when wet and consolidate when dry, which can lead to cracked foundations. Sand will not change due to moisture conditions, but it can erode if the drainage around the foundation permits water entrapment. Yet sometimes even difficult soils can be dealt with. Foundation specialists work with homeowners to help them make the best choices.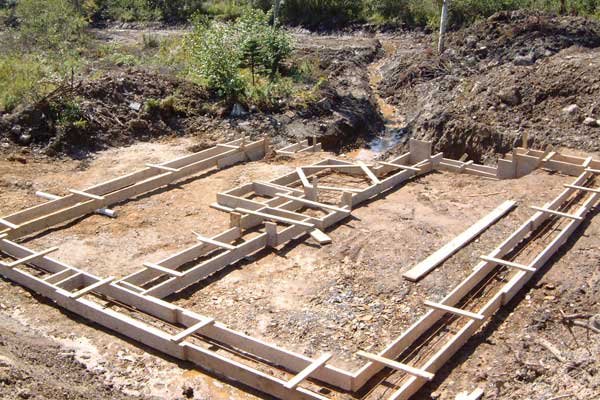 Climate also helps dictate choice. Harsh winters, high winds and water tables need to be considered as well. Then of course budget and individual needs will also play a part. For example, the homeowners might have their heart set on a finished basement for their children to play in.
The planned home's size and design needs to be considered as well. The weight of a home structure may create stress forces which slide soil away from the foundation's footings. The "loading" factor is calculated by the weight of the structure multiplied by the pressure of gravity. This is the home's dead load. A contractor and architect will take into consideration this dead load as well as imposed load (furniture, fixtures etc), snow load and wind load.
All three foundation types are generally constructed of concrete, but there are still choices to be made. Should you have a poured concrete foundation, a slab-on-grade foundation or go with insulated concrete forms? Each has its advantages.
The poured concrete foundation is the most widely used in the Maritimes. One of its advantages is its extreme flexibility in terms of house design. These foundations can also be poured relatively quickly, usually in two or three partial work days (depending on the house size). However there are also increased costs with this type of foundation, as it requires pouring footings and walls that need to rest below the frost line.
With slab foundations, or slab-on-grade foundations, concrete is poured in a mold set into the ground. These foundations are commonly used in areas with clay soil. One big advantage of the slab technique is that it is less expensive than poured concrete, since there is no basement.
Disadvantages include being prone to damage from tree roots and insects. The potential also exists for large heat losses when ground temperatures fall significantly below the interior temperature. The low elevation could expose the building to water damage too. Frost and thaw conditions might eventually even cause ground settling problems. However, compacting the soil properly can minimize this.
"A base would have to be put in, compacted and so on. If you get some good hard rains on it [base] it'll help compact it. They recommend that you don't build on them for six to eight months," says Travis Bruhm of Millenium Residential Construction, Bridgewater, NS.
Insulated concrete form (ICF) has become a popular method of constructing foundations in recent years. Instead of wood molds, lightweight insulating rigid foam forms are snapped together to hold concrete in place during curing. The forms aren't removed after the concrete hardens, but remain in place to serve as thermal insulation. All ICF systems are engineer designed and code accepted.
Proponents of this type of construction say it's solid, durable (fire and wind resistant) and energy efficient. It also creates a great sound barrier and ensures a warmer and drier basement than typical concrete. Travis says ICF costs more, but can be worth the investment.
"When people look at the costs to put in an ICF foundation, it's quite a bit more. It's, at the very least, one-third more than going with a conventional concrete wall but it's fully insulated," says Travis.
No matter which type of foundation a homeowner chooses, during its construction inspections are required by the building department of the municipality in question. Generally these inspections are done when the footings are in place and before backfilling.
The National Building Code (NBC), which is prepared by the Canadian Commission on Building and Fire Codes, is considered the "Bible" of home construction in Canada. Canada's Constitutional Act recognizes that building regulations are the responsibility of the provincial governments, with most provinces adopting or adapting the model NBC. The adoption of the code can vary slightly from province to province. Any competent contractor should be well versed in his municipality's interpretation of the building code.
No question-a proper foundation will ensure the longevity of your investment. A well-constructed and maintained home will survive the ravages of time. That's what everyone wants for their own little piece of the world.
Choosing a Lot
Selecting a site for a new home requires a little detective work. The slope of the land, hydrostatic pressure and backfill quality are just a few things to consider. A soil engineer is the best detective. He is well-versed in soil and structure interaction and will make a decision as to septic system requirements, grading, drainage and earth support. If you do have poor soil conditions, there are remedies available such as a pile or pier foundation. Each has its own unique way of ensuring that your foundation is stabilized. A property etched out of a hillside will have erosion issues that will need to be addressed.
If your proposed building site requires extensive grading, fill, or has large boulders, your construction costs will increase.
"When you're buying a lot, you want the most level lot you can find," says Travis Bruhm of Millenium Residential Construction, Bridgewater, NS.
Selecting a lot already within a developed community will save you time and money since most services will already be in place.
Of course your own personal interests also have to be considered when looking for a site for your home. Is there a particular view you want to capture? A sunset perhaps?
Landscaping plans should be indicated during the excavation process. It's cost effective to have it all done at the same time.