Are we compelled to feed the birds because we're altruistic, or because they remind us of our chatty, colourful selves?
The ABCs of birds: addictive, busy, compelling. You can probably find an adjective for every letter of the alphabet that describes most birds. Despite being independent and industrious little critters, birds attract the attention of humans, who volunteer significant time and money to help them. They don't ask for it, but they do get it. I sometimes think we look after birds better than we look after our own!
In many ways birds are like those of us who live in Atlantic Canada. They fly south, or go off to another location and enjoy a different way of life for a while. Wherever they go they are accepted and welcomed, but they often return here. And like us, birds are chatty. There's always a hum of conversation around a group of people from here, whether they're at home or away.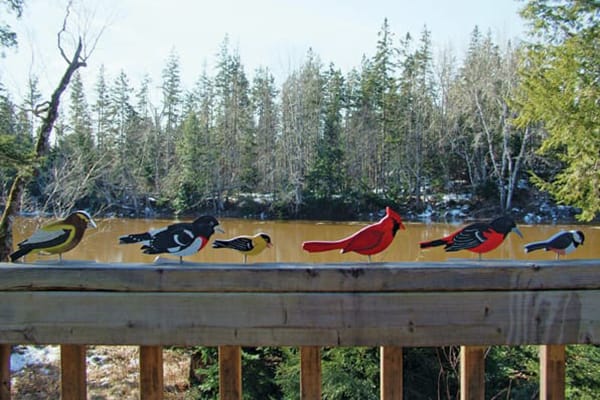 I recently spent a few hours at Toronto Pearson Airport-the only conversation I heard en route to my departure gate was one-way, on cellphones. Other people were huddled over their BlackBerries, communicating quietly. Thank heavens birds don't have these devices! But at my departure gate there was the familiar buzz of Maritimers and Newfoundlanders chatting up neighbours with all the meaningful and meaningless detail of their lives. That's our way of being friendly. Birds are like that too. I think that, like us, they even talk to themselves if there's no one else around to listen! It matters not if we speak different languages; communication is still lively. And what about music? Like our feathered friends, we on the East Coast are filled with song.
Another thing we're filled with is neighbourly, altruistic spirit. Various causes attract our attention: church, the environment, animals and fish, health and social welfare, community events. You name it and we do it; we are a region of volunteers.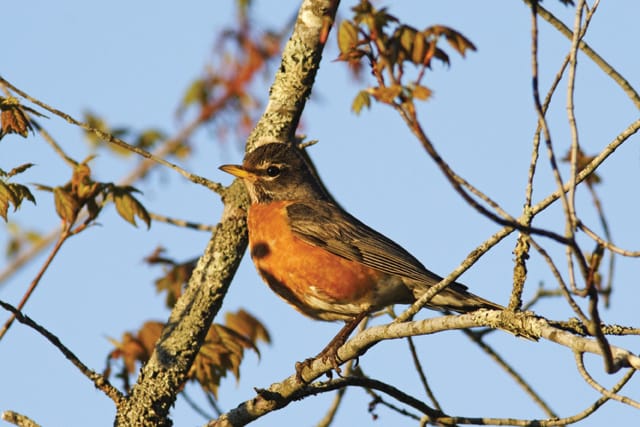 Birds are at the top of the list for some. A friend admits she's consumed by an appetite for those little things that fly. She has decorated her yard to attract and attend to songbirds. A couple of times a year she drives for two hours in the dark of night to a bird sanctuary where, an hour before dawn, she helps to band birds. She then returns, puts in a day at work, sleeps for a bit, and repeats the drive. She positively glows with satisfaction and enthusiasm!
Katherine Bunker-Popma of Sackville, NB, combines her interests in birds and water together in her concern for shore birds. She and a friend wanted to know if the Confederation Bridge had an effect on the migration of scoters-a stocky sea duck that "scoots" across the water's surface from one foraging site to another-through the Northumberland Strait. Each spring and fall for more than 10 years, she sat quietly watching, counting and recording scoters and their behaviour. It can't be easy to sit still holding binoculars to your eyes in weather ranging from freezing rain to snow to hot sun. Now that's passion! The results of the study have been published in the Canadian Field-Naturalist.
That project is over, but Katherine still devotes time to bird conservation. The Maritimes Breeding Bird Atlas has divvied up the region in 10 by 10 kilometre squares in order to survey bird populations. Katherine has assumed responsibility for one of these patches in the Dorchester, NB, area. Every day for six to eight weeks she spends several hours there, reporting evidence of breeding birds.
Katherine is just one of thousands of people compelled to help in what some might call a thankless job. Birds don't say thank you in any way other than to let you see them preen and hear them sing. They're fickle. If they don't get what they want from you they move on. But we're still moved to be involved with them in some way.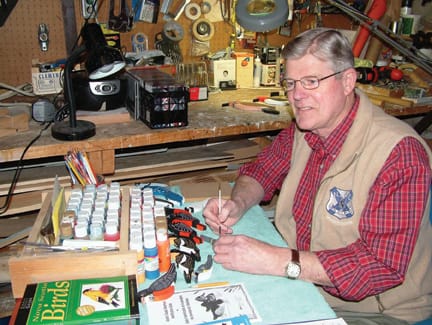 Richard (Dick) Huggard of Truro, NS, is also attracted to our feathered friends. Highly respected in the field of agriculture, Dick has spent a lifetime in senior government and academic circles. He has retired from those worlds, which means he now has more (volunteer) time for hockey, church, the Agricultural Museum and the Agricultural College. I know Dick best as a fellow director of the Cobequid Salmon Association, where he devotes time to Atlantic salmon projects.
But the birds got to him, too-he makes life-like wooden models, cutting out shapes and painting them, giving them to friends or donating them to organizations for fundraising. I have one of his bluejays sitting on top of a bird feeder and I'm always delighted when a young jay tries to "talk" to it.
I also have a bluejay carved by Carl Purcell of Dartmouth, NS. Carl is a retired school administrator who now also spends time working on behalf of Atlantic salmon. He is recognized nationally for his outstanding volunteer contribution to the conservation of fish in this region. But birds have him captivated, too-he's a noted wood carver, usually various kinds of waterfowl, many of which he donates to our salmon organizations for fundraising purposes. Bidding is always high for his work!
What is it about birds that gets to us? Their beauty? Their independence? Their songs? The fear that they may disappear? We know they can probably survive without our help. Maybe we need them more than they need us. Maybe we'd like to be more like them-colourful, filled with music, chatty, self-reliant, free, friendly but won't let anyone take advantage of them… Hey, wait a minute! We are like them, aren't we? We're from Canada's Far East!