Can the beauty of fungus grow on you? An update on an old art form
AMY'S FOCUS never leaves her painting. A few more expertly placed snow flurries and the bull moose comes to life, its strong black form moving easily through the snowsquall. The artist pauses momentarily to draw her collar tightly against her neck. She takes a last lingering look at her creation before wiping the acrylic paint from the horse-hair paintbrush on her drip rag.
Amy McAllister has been painting on unusual canvasses for more than 10 years. A five-foot cream-coloured saw blade with silhouettes of a buck, a doe and a fawn painted on it ranks high among her favourite paintings, along with the moose antlers that caught her eye many years ago.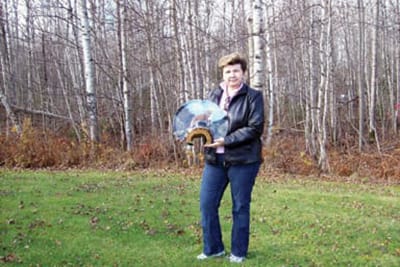 Today Amy is using another type of canvas, known as the artist's fungus. Her home in rural Miramichi, NB, affords her the luxury of spending a lot of time in the great outdoors, searching the forest for a special member of the mushroom family, the Ganoderma applanatum. Shaped like a fan growing from the trunk of a tree, the fungus is distinguished from the other hundreds of mushrooms in our forests by its brown upper surface and white leathery belly.
"Ganoderma applanatum is a common wood-decay fungus on various hardwood trees in the forests of this region," says Stephen Clayden, curator of the Botany and Mycology section of the New Brunswick Museum. "It occurs especially on trees that are under stress-the fungus enters the trees through wounds, and causes a white-rot."
It's formed after the fungal mycelium has already penetrated extensively through the heartwood and sapwood of a tree. An individual fungus can produce spores by the millions, which are dispersed on neighbouring trees but also on distant stands of trees.
"The largest individual bracket I've seen is one we have at the New Brunswick Museum," says Stephen, approximating it to have been growing 22 years when it was collected in Kings County, NB, in 1945. "It measures about 84 centimetres across."
After harvesting her fungus-which she removes with a hunting knife-Amy drills a couple of holes in its base to help the drying process, then stores it in her shed for up to three months. Once dried, the fungus hardens like a chunk of wood, but doesn't deteriorate.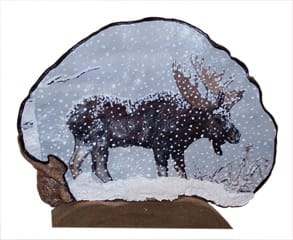 Before starting to paint, Amy examines each piece, noting its contours to help decide the subject of her art. Surface holes and bumps must be worked into the overall design, for example. She paints the surface of the fungus: shellacking the back and giving the underside a base colour. After this dries, she's ready to sketch her image.
Traditionally, among Native peoples and pioneers, a sharp object was used to etch a scene into the fungus underbelly; the markings would then turn brown and become permanent. However Amy draws on the fungus using a pencil, and then paints her scenes.
"It's so relaxing in the forest," she says. "I often get a chance to snap a picture of a passing deer or moose or bear that I will use as a reference to create another work. The pencil allows me to work with a softer detail compared to etching, and for me just adds to the peaceful nature of the work.
"I like to blend my colours together giving the picture a more harmonious look," she adds. "Sometimes a sponge is perfect for this effect."
The artist's fungus is not new. In a letter dated May 6, 1839, Upper Canadian pioneer and author Susanna Moodie wrote to her husband, John Moodie, about selling fungus art to raise money for shoes for her children. A few museums have fungus pieces with burnt-in images done by Civil War soldiers, some of whom may have been Atlantic Canadians (an estimated 40,000 to 60,000 served in the American Civil War, the majority coming from the then independent Maritime Provinces and Canada East.)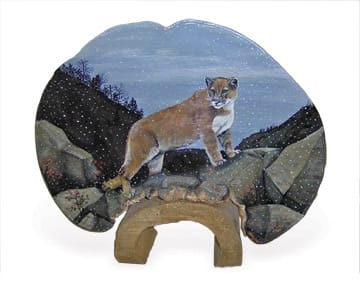 Mi'kmaq peoples of Eastern Canada believed that finding a particular shape of fungus was a means of acquiring a special keskamzit, or magical good luck. In the book The Micmac Indians of Eastern Canada, authors Wilson D. Wallis and Ruth Sawtell Wallis tell of a fungus bought in Pictou Landing. Its appearance was that of an old woman with a large nose and protruding abdomen. The finder, a Mi'kmaq woman who wanted to have children, treated it with great care-making it a bonnet, a shawl and a chair to sit on. This artist's fungus suggested a keskamzit for pregnancy.
The fungus Amy used for her moose painting, however, doesn't have an especially distinctive shape. It measures approximately 28 centimetres wide by 20 centimetres long; she has painted on fungus as small as 13 centimetres.
When her artwork is finished and dried, she attaches a cedar base to the fungus, which she stains and lines with a soft material to prevent scratches on furniture. "Cedar makes a lovely base. If I can take it from a log that's hollow in the centre, I can make the fungus look like it is back on the tree."
"This piece," she says as she holds up the bull moose art, "is going to my neighbour."
A piece of handmade art given as a gift-as no doubt many other pieces of fungus art before it-seems appropriate, and very Maritime.