The East Coast Trail Association began in 1994, with a vision for a world-class hiking trail that would connect 30 communities—providing accommodation, dining, and entertainment en route—along North America's easternmost coastline. By 2001, 220 km had been completed, stretching from Fort Amherst, near St. John's, to Cappahayden. The entire trail is 540 km, from Topsail to Trepassey around the Avalon Peninsula, providing hikers with paths ranging from easy rambles to wilderness adventures.<
You can do individual sections in a day or hike a couple of sections on a weekend. There are many access points; get dropped off in the morning with your lunch in a backpack and have an overnight bag transported to a B&B a day's trek away. Or if you prefer to camp you can take it all with you.

The trail takes you through boreal forest; past towering cliffs and headlands, sea stacks and deep fjords. It provides access to abandoned settlements, lighthouses, ecological reserves, seabird colonies, the world's southernmost caribou herd, a 50-metre suspension bridge and two active archaeological dig sites.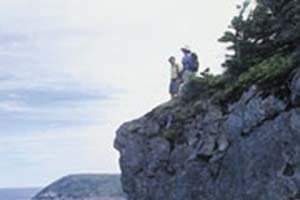 One of the most popular sections is to the "Spout," a natural wave-driven geyser that shoots water 20 metres into the air. This path makes for a long day trip or a good overnighter, starting in Petty Harbour, near St. John's, and ending 22 km later in Bay Bulls.

The only distractions from the natural wonders along the trail are the rare times you meet another person. No sooner had we finished the hike in Bay Bulls than we were invited in for tea and a molasses bun!
Eco-friendly hiking tips:
If you plan to cook, bring a stove instead of cutting firewood to make a fire.
If you are camping, set up for the night where your impact will be minimal (beaches are preferred.)
If you are travelling on some of the more challenging sections of the trail, bring the appropriate maps, a compass and GPS.
GPS coordinates
Parking area for "Spout" geyser from Bay Bulls: