10 great family fun day trip adventures
Lucky me. Every year around my birthday, my family starts being extra nice. Lately, that's meant indulging my love of travel through Maritime day trips. What I like most about the gift is that it's not only fun for the adults in the clan, the kids rave about it too. And who doesn't like helping them develop a sense of adventure while everyone is having fun? It needn't be your birthday to hit the road. Here are 10 great family fun suggestions:
1. RAILS AND TRAILS
Plan a railway themed adventure: get your bicycles out for a trip along PEI's eastern tip of the Confederation Trail (converted from abandoned rail lines) for a stop into the Elmira Railway Museum. Here you can feel the breeze on your face as you take a very fun miniature train ride through the woods. The museum is filled with railroad paraphernalia and if you time it right (read August) you might be fortunate enough to be in town during the yearly blueberry festival. Yum. www.gov.pe.ca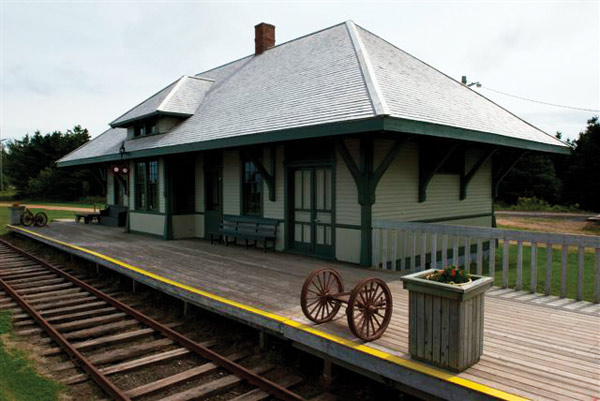 2. WIND POWER
Want to sneak some learning in with the fun? PEI's North Cape Interpretive Centre, offers a chance to learn about wind power, and watch the waters of the Gulf of St. Lawrence and the Northumberland Strait converge over the longest natural rock reef in North America. There are giant windmills on site, walking trails and a restaurant. www.tourismpei.com
3. SERIOUS SCIENCE!
Described by visitors as "The Best Little Science Centre in Canada," Fredericton, NB's Science East - housed in a former stone jail (it's really cool) - is home to over 100 hands-on exhibits. Think how much fun the kids will have leaving a glowing image on the shadow wall, sitting on a chair of nails, beating someone four times their size at tug-of-war and exploring the outdoor science playground (once the exercise yard). Trust me, even the smallest scientists will find hands-on activities to keep them busy. 506-457-2340, www.scienceeast.nb.ca
4. BUTTERFLY WONDERLAND
How cool will you be when you plan a walk among tropical butterflies at The Butterfly House at Green Village in Moncton and Fredericton, mixing among Monarchs, Swallowtails, Morphos, Zebra Butterflies, and more. 506-450-3388, www.greenvillage.com
5. GETTING AWAY FROM IT ALL
Enjoy the tranquility of Mactaquac Lake with a rental from Lakeway Houseboat Rentals. The sweet Queen of the Quac sleeps eight and has capacity of 14 on board. The upstairs deck has chairs for relaxing in the sun, and a waterslide for a splash into the cool waters of the St. John River. There's also a BBQ on the front deck and room for a chair to sit and listen to the loons call at twilight. The Woolastook sleeps 14. Its propane fireplace for cool evenings, flat screen TV for a movie night, BBQ, swim platform, waterslide and hot tub are sure to guarantee hours of fun. 506-366-8066, www.lakewayhouseboats.com
6. GONE TO SEA
Ready for a fascinating seagoing experience? Third generation lobster fishermen Perry Gotell offers real lobster fishing trips in season and PEI's only giant bar clamming adventure through Tranquility Cove Adventures in Georgetown, PEI.  Those on the clamming trip don wet suits and dig giant bar clams on the beach of an uninhabited island, then cook their catch, beach comb for sea glass, swim, mackerel fish, and get a chance to haul a lobster trap and crab pot. 902-652-2551, www.tranquilitycoveadventures.com
7. TRY TREEGO
Make like the monkeys in Centennial Park in Moncton, Atlantic Canada's only TreeGo, a tree top obstacle course. Set high in the trees, it offers a challenging, exhilarating three hours of zip-lines and scenic views. There's also an easier course for smaller children. 506-388-4646, www.treegomoncton.com. While in town, spend another day exploring the Magnetic Hill theme park. Magic Mountain is the largest water park in Atlantic Canada and offers a great water play area for little tots. They'll love it. You, on the other hand, might be a tad exhausted. 506-857-9283, www.magicmountain.ca
8. GET WET
Here's a "royal" way to spend the day in Nova Scotia's Kings and Queens counties: experience the thrills and spills of tubing on the Gaspereau River in Kings County, and on the Medway River in Queens County.
9. GO CHOCOLATE
St. Stephen, NB, is Canada's chocolate town. If that's not enough inspiration, know that there's a Chocolate Museum and Ganong Chocolatier (the Ganong family has put their heart into the art since 1873) and a Chocolate Fest each August. Bonus: You can work off all the goodies on a family whale watching or sea kayaking expedition in nearby St. Andrew's-by-the-Sea.
10. PLAN A MUSEUM HOP
Around Halifax, Nova Scotia's capital, learn seafaring ways at the Maritime Museum of the Atlantic (museum.gov.ns/mma), gain appreciation for immigrants to this country at the fascinating Pier 21 National Historic Site (www.pier21.ca), then take advantage of the many programs at the Nova Scotia Museum of Natural History (www.museum.gov.ns/mnh). Need more? Down the road in Parrsboro, you can do a field trip with the dinosaur loving-crowd at the Fundy Geological Museum (http://museum.gov.ns.ca/fgm/en/home/default.aspx).