More than ever, there's a countertop for every taste.
When it comes to countertops, you've got plenty of materials to choose from. Here's a quick primer to help you sort through your options.
Twenty years ago, making a decision about countertop materials for the average home would have involved little more than a quick flip through a box of laminate samples.
Today, the selection begins with laminates and extends through an assortment of more costly composites and natural woods, right up to pricier natural stone.
Laminate love
"I probably shouldn't admit this," says Nova Scotia chef Peter Jackson, "but I've always liked laminates. They're cheap, easy-to-clean and tough as nails. Plus they come in hundreds of colours and patterns."
A restaurateur who was born and raised in Nova Scotia, Jackson recently gave up his landmark Edmonton restaurant to return to the Annapolis Valley with his wife, Sara, to start a vineyard. The countertop in the old farmhouse they purchased near Aylesford is a 1970s vintage faux marble laminate that's in remarkably good condition.
For now, the Jacksons' priority is growing grapes, but when the time eventually comes for a kitchen makeover, Peter says he will be happy with another laminate, providing he also has a small stretch of butcher block in his baking area.
As it turns out, Peter Jackson isn't the only member of the laminate fan club. "Laminate is still the perennial favorite," says Devin Butt, a sales associate for a New Minas, NS, kitchen cabinet manufacturer. "Its durability and lower price point make it the first choice for most people."
Synthetics and engineered stone
John and Pat Suddons had laminate in their previous house, but when the time came to select a kitchen countertop for their new, open concept bungalow, the Wolfville, NS, couple wanted a more substantial material to complement the adjacent living space.
"The kitchen is the hub of our home," says John. "Entertaining usually begins at the island and flows from there."
After doing a bit of research and talking to their builder, the Suddons decided to splurge on one of the new engineered stone products composed primarily of quartz particles.
"It's in the same price range as granite," says Pat, "but it's more serviceable. It comes in a greater variety of colours and edge finishes than it used to and there's virtually no maintenance. Even wine spills clean up easily."
Faced with a similar need for a material that would harmonize with their open concept living space, and a design that called for an integral sink, Judith Mackin and Robert Moore chose a synthetic, solid surface material for the kitchen countertop in the ultra-modern house they're building in Saint John, NB.
Roughly the same price as natural and manufactured stone, it can mimic stone, but Mackin and Moore were in the market for a brilliant white to extend the line of their glossy white cabinets. "It has the seamless, minimal look we were after," says Mackin, the founder of a new Saint John design studio.
Gorgeous granite
Once the only game in town for high-style kitchens, granite countertops have made some changes to keep up with the competition. The quality has gone up; the price has come down.
Granite countertops are now much easier to get in Atlantic Canada, thanks to the diversification of a longtime manufacturer of cemetery monuments.
A granite countertop is still well beyond the cost of laminates, but buying one at a monument company helps put the purchase in perspective— when it comes to buying a slab of granite, a new countertop really beats the alternative.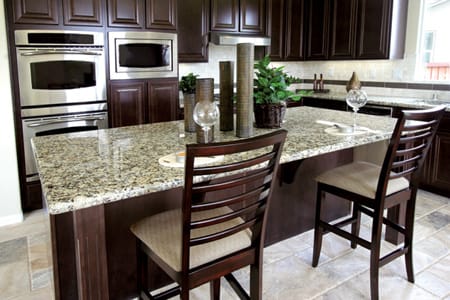 Counter intelligence: 8 top countertop materials
1. Laminates
Plastic-coated synthetic with a smooth surface
Pros:
Inexpensive
Easy to maintain
Vast selection of colours and patterns
Selection of finishes
Available as a DIY option
New products replicate real stone
Cons:
Shows seams
Will scratch, stain and mark
Difficult to repair scratches and chips
Will not withstand heat
2. Concrete
A mix of cement, sand, water and aggregate (pieces of crushed gravel or stone) strengthened with materials like galvanized steel mesh or fibre and poured into a rigid form
Pros:
Resists heat and scratches
Durable
Can be tinted in a variety of colours
Can be formed into various shapes
Cons:
Expensive, but comparable to either natural stone or manufactured quartz composites
Heavy
Can crack without proper treatment
Porous: requires annual sealing to resist water and stains
3. Stainless steel
Pros:
Resists heat and rust
Durable
Hygienic
Seamless
Easy to clean
Often made from recycled materials
Cons:
Expensive
Can scratch and dent
Shows fingerprints
4. Wood
Most often maple, birch and other hardwoods
Pros:
Beautiful
Easy to clean
Can be sanded and resealed
Moderately inexpensive
Comes custom made or pre-cut in standard sizes
Cons:
Damaged by water—especially likely near a sink
Will stain and scratch
Must be oiled on a regular basis
5. Solid surface materials
Synthetic sheets made by blending a compound of minerals with resins
Pros:
Comes in a broad range of colours and patterns that can mimic stone
Resists stains, heat and bacteria
Long-lasting
Easy to maintain
Scratches can be removed by sanding
Seamless
Cons:
May be marked by hot pots or stained
Expensive

Look and feel of natural stone
Comes in dozens of colours
Non-porous surface that resists scratches, stains and bacteria
Seamless installation
Easy to maintain: no annual sealing
New eco-friendly lines

Expensive
Not a DIY option

Large variety of colours
Resists heat and water
Comparatively inexpensive as a DIY
Durable; easy to clean and maintain

6. Engineered stone

A solid slab material composed primarily of quartz particles with a dash of resin

Pros:

Cons:

7. Ceramic tile

Pros:

Cons:

an crack and chip
rofessional installation is expensive
rout can discolour and accumulate dirt
8. Granite
Pros:
Resists heat, water, scratches and stains
Durable
Can be formed into a variety of shapes
Some new products are guaranteed to remain sealed for up to 15 years
Cons:
Expensive; price depends upon product and edge profile
Some products require regular maintenance and sealing
Can crack without proper treatment