Raised in rural Ontario, Ross Munro has always had an appreciation of where food comes from, tailoring his cuisine accordingly. Now living in Charlottetown, he has forged a connection to PEI farmers, fishermen and other growers or producers—for example he's developed his own signature grade of PEI beef in partnership with Atlantic Beef Products, so he has a consistent product and is supporting local farmers.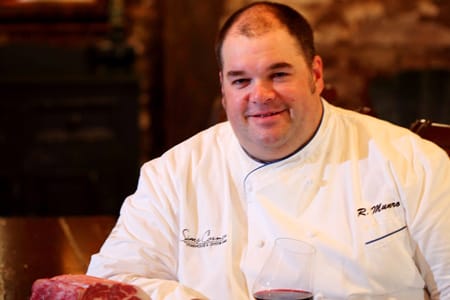 His career has taken him across the country including stints at Toronto's Westin Harbour Castle, the Westin Edmonton, Fairmont Chateau Lake Louise and the Hyatt Regency in Calgary, among others, before taking a break from the line and working as corporate chef in research and development at Griffith Laboratories in Toronto and Chicago.
Ross has a wealth of knowledge in terms of leading and developing seasoned culinary professionals. His ability to meld flavours—like stuffing double-smoked bacon-wrapped Island beef tenderloin with New Brunswick blue cheese—is first class.
When I was on the Island for Fall Flavours, the month-long annual food festival, Ross was barbecuing outside his restaurant. The flank steak, usually a very tough cut of meat, melted in your mouth. It was accompanied by organic potato salad, vinegary coleslaw and local corn on the cob. It takes a lot of dedication to follow food from the local farm to the plate, and this chef has succeeded.

Q What inspired you to become a chef?
A Watching Julia Child, and also Graham Kerr in "The Galloping Gourmet" as a kid on TV, and definitely my parents. Both are great cooks and love to entertain. They have such a love for good food and wine.
Q Who do you look up to?
A My parents for sure, and my wife and kids—it's amazing what kids can come up with for Dad to try and cook. They always embellish stuff, like how about some real porcupine pie, or skunk stew. Not exactly up my alley, but we have lots of laughs about that stuff! As for inspiration in the kitchen, a mentor from afar has always been Lidia Bastianich (American chef, author and restaurateur, specializing in Italian and Croatian cuisine). She cooks so simple, with heart and vigour, and is dedicated to using the best ingredients, fresh or otherwise. I have always been a champion of that mantra.
Q What accomplishment are you most proud of?
A Quite simply, that I'm still married. My wife has put up with me and my career, and the usual chef antics for years: the late nights, the crazy hours, the missed family occasions and, of course, the odd beer here and there. It's taxing, to say the least.
Q What is your favourite ingredient?
A Anything fresh or unique. I like having items on our menu or available to our clients that no other chef has or can get. Right now we are offering a blue cheese, called bleu l'escure, from the Pyrenees Mountains in France that no other place in Canada has.
Q What kitchen tools can you not live without?
A My hands, a great French knife, preferably high-quality carbon-steel (more work to care for, but an edge like no other); I would also say a high-powered immersion blender and a great balloon whisk. I've had a Matfer balloon whisk for 20 years—you can whip a litre of cream faster by hand with that whisk than a countertop mixer.
Q What are the upcoming food trends?
A Stay local, buy local and support local wherever you can. Stick to the basics and don't try to overwhelm food with anything too heavy. On top of that, healthy is always there. And we are in the restaurant business, so we're also about entertaining our guests. They come to us for that special indulgence, and we want them leaving happy.
Q Do you have cooking tips to share?
A Stay true to the ingredients; cook with your heart. Start by cooking things you like, and then move on. Also, invest in great kitchen equipment and utensils—they will be with you for a long time.
Q Are you a Food Network fan?
A Love lots about the Food Network but I pick and choose. I love "Diners, Drive-Ins and Dives," with Guy Fieri. Also really like "Chef Abroad" with Michael Smith. They both have such a real approach to what they do. It's not all glazed over for viewers.
Q What foods do you eat in secret?
A Are you kidding me? I could be in a lot of trouble here. I love being able to build a burger with anything I want on it! If I've got some time on my hands, the Frosty Treat in Kensington, PEI, is worth the drive.
Q If you could cook for three people, who would they be?
A I would love to cook for Ferran Adria from El Bulli, in Spain. I have little or no experience in molecular gastronomy (the application of science to culinary practices and cooking phenomena), but would love to get his thoughts on my food. The other two would be Anthony Bourdain, US author and chef, and lastly, my granddads. They left us too early in life. I know that was four people, but my granddads were such a huge part of who I am that they could be rolled into one.
Q What do you not like food-wise?
A Can't stand getting my hands mucked up with breads and doughs. Just drives me. Must be some sort of OCD. I am certain all chefs live with some form of it!