Studies show that children who eat breakfast fare better in class. An easy extension shows adults will feel better and perform better at work after a good breakfast. It is the unquestioned most important meal of the day. Skipping it makes no sense from any consideration. The 15 minutes you save will be more than lost later in the day due to lethargy.
Some quick, and healthy, breakfast options: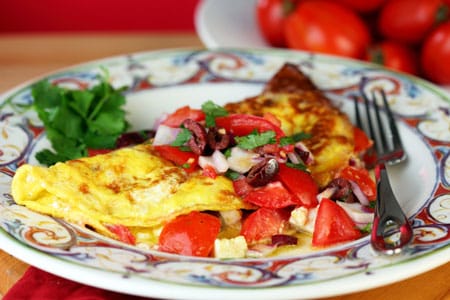 Healthy Breakfast Sandwich
Makes 2 sandwiches

This sandwich is inspired by Chef Pam from the Hillcrest View Inn, Pugwash, NS


2 eggs
1 tbsp olive oil
4 oz (115g) grilled country fresh ham
4 slices of toasted multigrain bread
2 tsp (10mL) butter
4 oz (115g) fat-free mayonnaise
4 oz (115g) shredded Provolone chesse
Few slices     red onion
2 oz (55g)     baby spinach
Milled Pepper

Cook eggs in olive oil and grill ham in same pan. Toast bread, butter lightly and spread with mayonnaise. Layer egg, ham, cheese, onion and spinach on bread. Add four to five turns of pepper to each sandwich, cut and serve. This fairly simple sandwich is a great marriage of flavours.



Healthy Raspberry Smoothie
Makes 1 serving


2 oz (60mL) fresh or frozen raspberries
2 oz (60mL) orange juice
2 oz (60 mL) plain yogurt
1 oz (30mL) flax or wheat germ
2 oz (60 mL) ice

Place all ingredients in blender and blend until smooth.
Garnish with a few raspberries.



Greek inspired Omelet with a fresh Salsa
Makes 2 individual omelets
Omlette
4 eggs
4 tbsp (60 ml) milk
2 tbsp (30mL) olive oil
1/4 cup (50mL) crumbled feta cheese
1/4 cup (50mL) sliced Kalamata black olives
1/4 cup (50mL) diced fresh tomatoes
1/4 cup (50mL) red onions

Salsa
1 medium tomato
1 oz (25g) chopped Kalamata black olives
1/4 cup (50mL) red onions
2 sprigs fresh cilantro, chopped
2 oz (55mL) olive oil
Juice and zest of one lime
Pinch of sea salt and ground pepper.

Omelet
Whisk together the eggs and milk. Cook ½ of the egg mixture in hot non-stick pan with the olive oil until the eggs just begin to set. Add half of the feta cheese, black olives, red onions and tomatoes and continue to cook. Place the omelet on a plate and fold. Serve with a few tbsp of fresh salsa on top. Repeat the process for the second omelet. Garnish with a piece of cilantro and slice of lime.

Salsa
In a small bowl incorporate all the ingredients mix well and refrigerate for 30 minutes before serving.