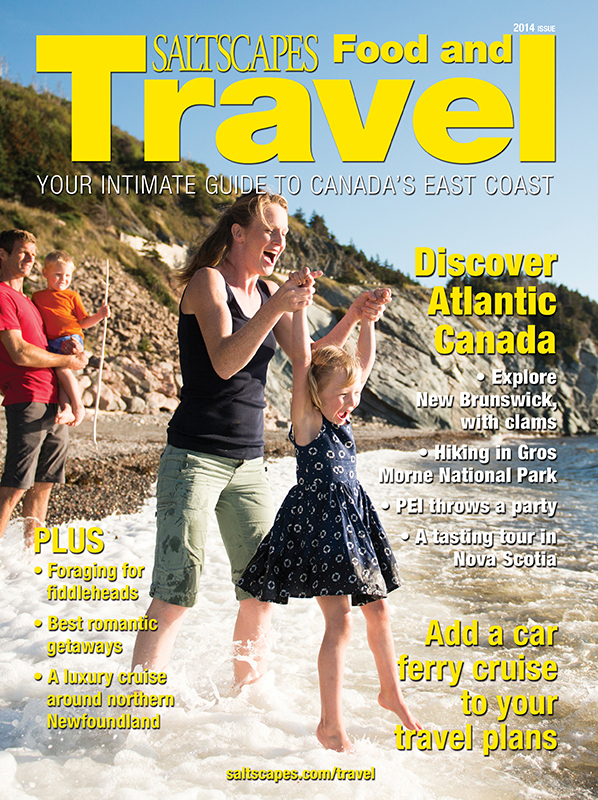 Click here for online digital edition
Food and Travel
Your Intimate Guide to Canada's East Coast
Discover Atlantic Canada
Explore New Burnswick, with clams
Hiking in Gros Morne National Park
PEI throws a party
A tasting tour in Nova Scotia
PLUS
Foraging for fiddleheads
Best romantic getaways
A luxury cruise around northern Newfoundland
Add a car ferry cruise to your travel plans
---
Cruisin' 'The Rock'

Exploring Newfoundland by boat—the German way When the announcement finally came, it was, as...

ADVERTISING

Gros Morne's best hikes

If you go, budget enough time "That's going to be your Christmas card photo," a hiker says after...

A taste old St. John's

Tradition and contemporary meld deliciously in this historic downtown It's a cool Monday evening...

---

Delicious Cavendish

Five options for great eats Bottom line: Cavendish, PEI—best known as home to Anne of Green...

---

150 reasons to visit PEI

PEI 2014 highlights include: Canada Day 2014 Celebrations (July 1) PEI 2014 Celebration Zone...

---

---

Celebrating Clams

Fried, steamed or baked, clams are a true summer delight A gull calls in the distance. Waves crash...

Tee time

Enjoy great golf throughout Atlantic Canada In Atlantic Canada they come in all shapes and sizes. Some...

---

Foraging for fiddleheads

For three weeks in May, New Brunswick abounds with this perennial delicacy There's something about...

---

On a high note

Kick up your heels at Celtic Colours, Cape Breton's island-wide musical adventure The 2014 Celtic...

The Parrsboro Shore

A tasting tour of "the Little Cabot Trail" Dragon's Breath—sharp and pungent, but silky with a...

---

Follow the Fossils

Along the Nova Scotia side of the Bay of Fundy and the Minas Basin, the tide rushes in every 12...

Lovely lobsters

—every which way but loose Years ago, fishermen's kids were embarrassed to bring lobster...

---

Swordfish

Fun to catch, fun to eat Long, sleek and illusive—and delicious—swordfish are prized by some...

Romantic Retreats

Whether to revive or ignite your romance, these spots are sure to delight Do Not Disturb: From...

---

On track

Our ferries today Saint John, NB, to Digby, NS: A three-hour crossing; twice daily (return) on...