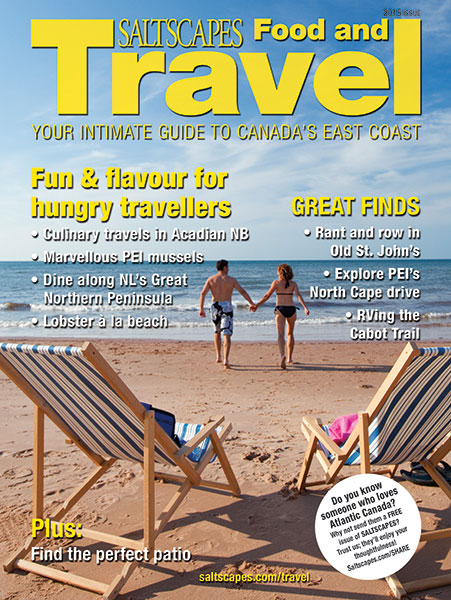 Click here for online digital edition
Food and Travel
Your Intimate Guide to Canada's East Coast
Fun & flavour for hungry travellers
Culinary travels in Acadian NB
Marvellous PEI mussels
Dine along NL's Great Northern Peninsula
Lobster á la beach
Great Finds
Rant and row in Old St. John's
Explor PEI's North Cape drive
RVing the Cabot Trail
Find the perfect patio
---
Tignish treasures

PEI's less travelled shore It's been said that one's destination is never a place, but a new way of...

ADVERTISING

The world is your oyster

Ell Lake Oysters, heaven on the half-shell It's a balmy summer's day and I've just arrived at Eel...

The magic of mussels

PEI chef on voyage of discovery I'm always amazed by how versatile some foods are, but I never...

---

---

RVing the Cabot Trail

Golf, good food…and some friendly competition Like a turtle with its home on its back, I ease the...

---

Parks Canada adventures

Become a cannoneer, pedal the Coastal Cruiser, save the Citadel from spies… "Did you jump?" one...

Out on the TOWNS

Celebrating the coastal communities of the South Shore Named among the world's top 10 coastal...

---

One fish, two fish…

Close encounters at the aquarium Salmon circle a tank in front of me; scales glitter as they catch...

Lobster à la beach

The one-pot, total-fun meal Like most, I've steamed lobsters all my life, but it wasn't until I...

---

Hot shots

Tips for great pictures Heading off on vacation? Before setting off on your photo safari here are...

Happy as a clam on PEI

Fun you can really dig It's my first ever time in a sea kayak, so I'm struggling to keep up with Paul...

---

Hail to the Republic!

Edmundston's the capital and fun's on the bill Four years ago while en route to Labrador through...

---

Food as history

The flavours of Îlse de la Madeleine "If food were a textbook, the subject would be history. I'm...

---

Decks of Atlantic Canada

Good food, great views—what more could you ask for? It's not hard to find a restaurant deck or patio...

Cultural liaisons

Gourmet fare builds on Acadian roots "If you come to my house, you can look in my fridge for...

---

Cross-border travelling

Two nation vacation I stood on a mountain peak and faced clusters of islands. With vistas of water in...

Bring your appetite

Fabulous food abounds on Newfoundland and Labrador's Northern Peninsula When we first traveled the...

---

A whale of a history

Red Bay, Labrador: Canada's newest UNESCO World Heritage Site story and photography by Keith and...

---

The verdant Valley

Fertile and fragrant—apples and grapes "My ancestors did all that work," says interpretive guide...
---