Page 1 of 2
Our wine expert explores your favourite wine and food websites.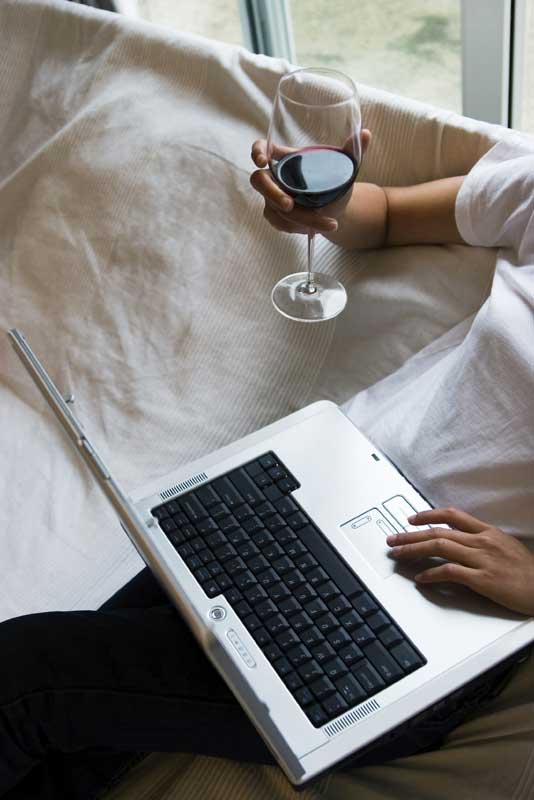 The food and drink scene in Atlantic Canada is flourishing, with new wineries, breweries, restaurants, wine retailers, fromageries and farmers' markets. The online world has followed suit, with dozens of regional wine and food blogs, websites, restaurant review sites and recipe directories. Here are some handy sites worth bookmarking.
Wine and food blogs
Nova Scotia
FEISTY CHEF
Halifax chef, mother and self-proclaimed crazy cheese lover, Renée Lavallée, shares her tips, recipes, book reviews, travels and experiences from her 17 years in the restaurant industry (including stints as chef at The Inn at Bay Fortune, PEI, and at Il Mercato and The Five Fishermen in Halifax) and from her home kitchen.

She started her blog when her daughter was born in 2009, and now has a son as well, so she shares stories about raising two kids.

Renée has a wonderful sense of humour and dishes up no-nonsense advice and recipes that are relatively simple for the home cook; she also offers her thoughts about wine pairings and her favourite local beers.

WITH BITE
Kristen Pickett works for the Halifax Chamber of Commerce by day, but by night, she scours Halifax restaurants, markets, festivals and events so she can report on them in her deliciously witty blog. This 20-something foodie has an endless appetite for local tastes and adventure. The site offers mouth-watering food photos, wine tips and reviews, and interviews with people behind the food and wine scenes.

LABELED
Jonathan Wilson is a knowledgeable wine lover who takes the intimidation out of wine for novice drinkers with his fun and accessible blog posts. He also throws in some meatier information for enthusiasts, but never veers from his easy style.

Jonathan isn't afraid to say what he really thinks. "I have never been an advocate of following trends in the wine world," he writes, "and have little to no respect for those who make wine a certain way just because they know it will appeal to the mass audience." When he graduated from the Canadian Association of Professional Sommeliers program, he won the Kent Clarke award for top graduate. He is the sommelier at Nectar Social House, in Dartmouth, NS.

HALIFOOD
Laura Oakley shares her thoughts about locally produced food and wines, in addition to telling stories of her food-inspired adventures abroad and her culinary experiments at home. Her passion for gastronomy was ignited while studying hospitality and tourism management at Mount Saint Vincent University, in Halifax. Her blog also features beautiful photography.

PASSABLE
This thought-provoking blog brings together a number of local writers on food and wine culture in Halifax and around Atlantic Canada. Writers are described as curious amateur gastronomes who spend a lot of time and money dining out, cooking and buying food. Together, their posts create a terrific collective journal that highlights local food and wine.

FOOD CRITIC
A former professional chef, Liz Feltham was the Coast's restaurant critic for eight years and has three cookbooks to her credit. She combines knowledge and passion with a strong voice, taking food, but never herself, seriously. Blogging since 2007, Liz shares her observations and musings on food, cookbooks and restaurants in her unique style.
New Brunswick
NB WINES
Norman Siebrasse declares that he's not a wine expert, but a wine lover. His blog offers reviews of wines available in Alcool NB Liquor stores. He also invites readers to submit their own reviews, which he'll post alongside his own-to encourage an exchange of opinions about good bottles available in the province. He says that his wife, Kelly, who often posts or is mentioned on the blog, has a better palate than he does. Smart man.

LE TIRE-BOUCHON
Mario Griffin is another enthusiast who reviews wines available in New Brunswick. His interest in wine led him to get involved with FestiVin, an annual food and wine festival in Caraquet this year from May 28 to June 4. He began his blog-which is entirely in French-when he became overwhelmed with friends' requests for wine advice. In 2010, he published his first book, Le Tire-bouchon Griffin 2010, the first wine guide for New Brunswickers.
Newfoundland & Labrador
ONE BRILLIANT BOTTLE
Renowned Newfoundland novelist and playwright Kevin Major started a blog last year about his other passion: organic and biodynamic wine. His blog is a rollicking read and his tastes are broad, educating his followers about wines from the world over. He selects one bottle each week and writes superbly about its taste and history.

ROCK RECIPES
Barry Parsons' blog biography reads: one wife, two kids, perennial student and lifelong food obsessive. His blog certainly fulfils the last descriptor, offering thousands of recipes with a traditional Newfoundland flair. Barry is also known for his creative ideas and for his recipes for produce and berries in season. Some of his recent posts include Strawberries and Cream Bread Pudding and St. John's Stout and Steak Soup, using locally brewed Yellowbelly beer.

WICKED SCOFF
Mark Penney is a Newfoundlander who moved to upstate New York in 2007. His cooking style marries New England flavours and recipes with traditional Newfoundland ideas.

He's named this blog with a word from the vernacular of each region: "Wicked," he explains, is a New England slang term (also used in Newfoundland) that means wonderful or deeply satisfying, as in "that was a wicked good lobster roll." The Newfoundland word "scoff" originally referred to a cooked meal at sea or ashore, often at an impromptu party, especially at night. Over the years, he notes, "the term has come to mean any meal, but often signifies a lavish spread of ingredients, drink and good company."

He also enjoys tasting and cooking with regional beers. "Expect a beer of the month, often paired with recipes," he says.